Volunteers needed at our charity shop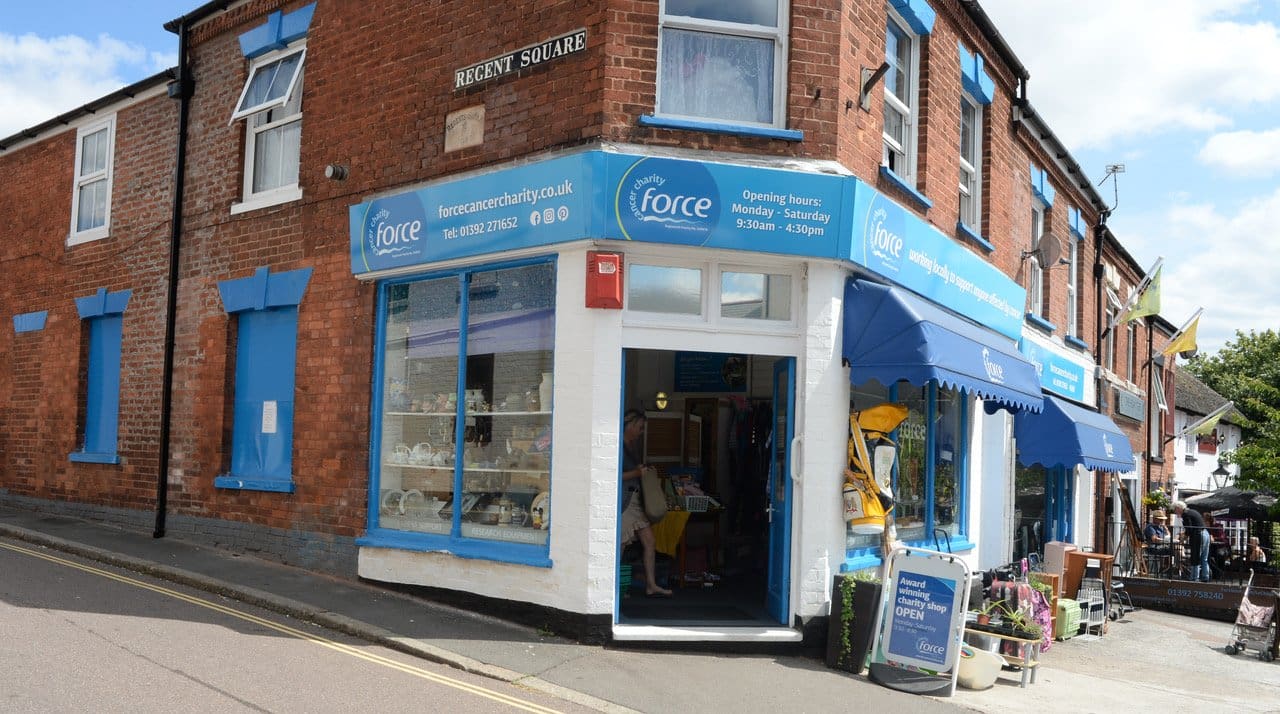 The FORCE Cancer Charity shop in Heavitree has launched a recruitment drive for new volunteers.
It's a great chance to join the charity's dedicated team and help raise funds to support local people affected by cancer.
FORCE has a variety of volunteering roles on offer at the shop – out front or behind the scenes – and you can be flexible with time you have available.
They are particularly keen to for new volunteers to operate the till. Experience is a bonus but not essential. We'll give you all the training you need.
There is also a need for volunteer van drivers for delivery, collection and runs to the recycling centre.
You may have a couple of hours to spare now and then, a morning or afternoon every week.
Whatever time you have, FORCE would love to hear from you.
Incredible
The shop in Heavitree Fore Street has been voted the best charity shop in the country.
It has an incredible array of bargains for sale and all the profits go to support people in our community affected by cancer.
"Why wouldn't you want to join the team of volunteers that makes the FORCE Cancer Charity shop tick," said manager Anna Heard.
"Apply today. You won't regret it."
One in two of us will get cancer. FORCE helps patients and their families deal with their diagnosis, treatment and beyond.
All the services provided by the charity are available thanks to the generosity of the local community, including those who donate goods and shop at FORCE.
Significant
FORCE has remained a significant and important source of support for people in Devon affected by cancer, despite the impact of COVID-19.
It continued to provide free cancer support and information throughout the pandemic, despite a significant loss of income with events cancelled or postponed and the shop closed for long periods.
More than 10,000 sessions offering a variety of support were delivered between March 2020 and April 2021.
The support has not changed but the way people can get the help they need has.
Counselling including bereavement and family support, a nurse-led information service, physio and exercise programmes, benefits advice, support and education groups and a wig fitting service are all available face to face but also via video and phone calls now
Difference
"You can do your bit to make a difference to the lives of local people affected by cancer. Become a volunteer at our shop and help us raise the money we need to maintain the free support FORCE offers," said Anna.
"Whatever your hobbies, skills or interests, we can keep you busy.
"If meeting new people and making a difference in your community sounds like something you'd be interested in, the FORCE charity shop in Exeter is the place to be.
"Help us generate the income we need to support local people dealing with cancer."
Find out more about becoming a shop volunteer.
VISIT: FORCE Cancer Charity Shop, 73 Fore St, Heavitree, Exeter, EX1 2RN
CALL: 01392 271652
EMAIL: shop@forcecancercharity.co.uk