Tasty way to support your local cancer charity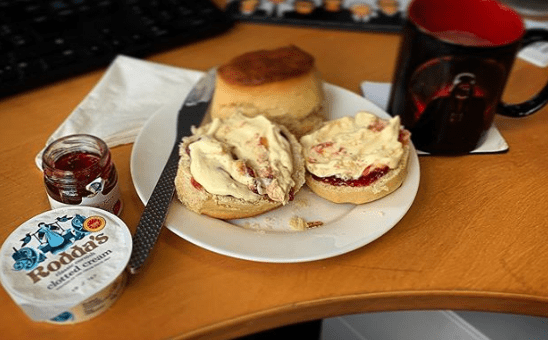 Cream Teas for Cancer, FORCE Cancer Charity's popular foodie fundraiser, is back for this summer.
And there's a big dollop of hope that this year's event on Thursday July 8 can raise a record amount to help support anyone locally affected by cancer.
FORCE needs to sell 1,000 cream teas to take the overall total made from four years of Cream Teas for Cancer to £20,000.
"Cream Teas for Cancer is set for its biggest year yet in 2021," said FORCE Fundraising Development Officer Olly Watts.
"We anticipate a great response as the country emerges from lockdown. With your help, we hope to raise £6,000 and we believe we can do it."
Delicious
On Thursday July 8 the team at FORCE and Cream Teas for Cancer partners from Beaverbrooks the jewellers in Exeter will be delivering delicious delights to your door for you to devour.
Each cream tea is carefully packed and costs just £5.
For that you get two scrummy scones from Halletts Bakery, Westcountry clotted cream from Rodda's Creamery, lip smackingly good jam from Waterhouse Fayre and a fine brew from Miles Tea and Coffee Merchants.
The minimum order is five cream teas, which can be delivered in the Exeter, Honiton, Tiverton and Okehampton areas.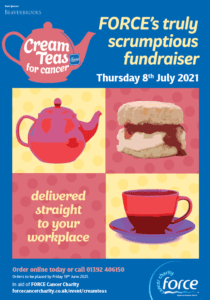 Ordering couldn't be simpler. Just head to FORCE Cancer Charity's website – forcecancercharity.co.uk/fundraising/cream-teas-for-cancer/ – and order online for your special delivery on July 8.
Quality
Throughout the COVID-19 pandemic FORCE has continued to support patients and their loved ones as they come to terms with a cancer diagnosis.
Fundraising has taken a big hit though and the charity is hoping people will use this opportunity to share some quality time over a cuppa and back those in their community dealing with cancer into the bargain.
"What better way to celebrate the easing of lockdown than getting together with friends, family or colleagues to enjoy a classic Devon treat," said Olly.
"Every year this event plays a huge part in our community, bringing local businesses, friends and families together to enjoy a great Devon tradition while doing their bit to support a local charity.
"Help us make it a great British summer by supporting your local cancer charity. Please, order your cream tea today!"