The Nello XXII Sunday June 27 2021  

Marc Millon, founder of the Nello cycle ride for FORCE, has written an inspirational call to action ahead of this year's eagerly anticipated event.
Who else is looking forward to this year's Nello more than ever?
After the strangest year that we have all had to endure, the prospect of this favourite group activity taking place once restrictions have lifted in June is so exciting.
Hopefully, on Sunday June 27, more than a thousand of us, maybe even up to 1,500, will once again be allowed to gather at Topsham Rugby Club, to be waved off by Sarah Daniels, choosing either to ride the challenging 55 mile half or the classic Nello hundred mile route from Topsham up the Exe Valley, over the roof of Exmoor then back to Topsham via South Molton, Crediton and Exeter.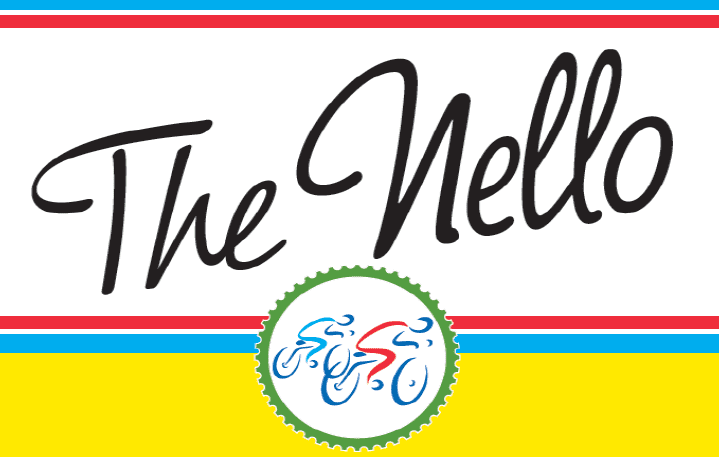 We missed that very special group start last year: the early morning excitement as hundreds of cyclists make their way to the Rugby Club; the camaraderie and the excited banter; checking in and seeing old FORCE friends and volunteers; Mike and his Bike Shed support team helping to make last minute bike adjustments; chatting with old friends who have ridden many times and meeting newcomers there for the first time; that nervous flutter in the stomach as the start time approaches, us on the tandem once again at the front of the start line, feeling all of that amazing collective energy coiled tightly behind us, everyone eager and ready to set off once again on what we originally called The Nello Century Cycle Challenge when it took place for the first time in June 2000.
Challenge
This will be the 22nd consecutive year that I will ride The Nello and I am looking forward to it every bit as much as when we set out that first year. Of course, last year's group Nello couldn't take place but even so, more than 800 of us still found a way to ride our own Virtual Nello, evidence of the enduring importance of this annual Exeter sporting event and of FORCE Cancer Charity in the lives of so many of us.
What is it that brings so many of us back, year after year, as well as attracts new cyclists year in and year out to take on the Nello challenge?
Firstly, it always is a real challenge, no matter how experienced you are as a cyclist, or how inexperienced.
Riding one hundred miles in a single day is a milestone achievement that pushes you physically and mentally to the very limit.
Every bone in your body will ache (especially your sit bones!), your legs will be fatigued and your hands, shoulders, arms, collarbone and neck will be sore and tender.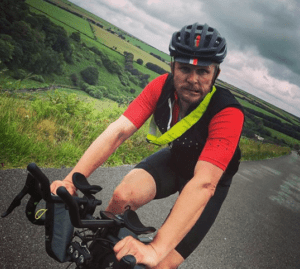 Discomfort is part of what you have to go through and there may be moments when you may almost lose the will to live. But the energy of riding in a group of like-minded others, all determined to finish, will help carry you along, just as you will help carry along those who may be suffering even more than you.
Satisfaction
The worst bit (I predict, from long experience) will be that endless stretch from South Molton to Morchard Road. No big hills, just a slightly rolling, straight road that seems to go on and on forever. For many, this can often the lowest point, when you want to crawl off your bike and lie in a ditch.
But somehow you won't; somehow you will dig deep and find a way to soldier on to complete the ride. And when you do, when you roll back in to Topsham Rugby Club, over the grassy finish line where the FORCE team awaits you with your medal, the feeling of immense satisfaction and achievement will be all the greater for having suffered and gone through the agony.
How about those who have chosen to take on the shorter Nello half? Believe me this is no easy option! When Pete Cain and I devised this 55-mile route, it was a way to encourage those for whom the thought of riding a hundred miles was just a pedal stroke too far.
The 55 is actually a very cunning route because it enables the first and the last stops to be shared and for all cyclists to arrive back along the same finish straight.
But make no mistake, it is no less of a challenge than riding the full century! Indeed, the section between Tiverton and Morchard Road can be positively soul destroying. It begins with the aptly named Long Drag, an interminable uphill slog that is never overly steep but seemingly endless.
Legendary
Then a succession of sharp descents followed immediately by savagely short and sharp rises, the sort of terrain that can really sap every ounce of energy out of you. Fortunately, beyond Nomansland and Black Dog, ample and abundant refreshment will be at hand when you eventually emerge at Morchard Road to the welcoming final food stop.
And what refreshment! The food on The Nello is legendary.
The FORCE team together with a small army of cheerful volunteer helpers are at hand throughout the ride to feed and water you, encourage you, make hot cups of tea when you are feeling low and to keep you going.
No other organised ride – certainly no sportive or indeed any other charity ride that I have ever taken part in – offers such an ample and delicious spread of both sweet and savoury foods, much of it homemade, to keep participants nourished and fueled and to keep morale high: cakes, homemade egg sandwiches, tuna sandwiches, cheese sandwiches, pasties, flapjacks, bowls of pasta, bananas, crisps and much more, plus ample water and even the utter luxury of that cup of hot tea even on roof of Exmoor.
The Nello is the only hundred-mile (or half hundred) ride where you can actually consume more calories than you utilise while cycling! Believe me, it is worth doing the ride for the food alone.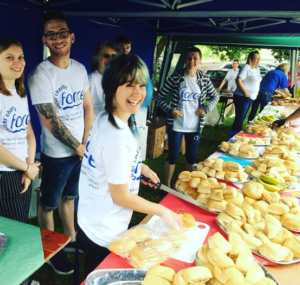 Rewarding
As for the routes themselves, yes, they may be challenging but they are also incredibly rewarding and beautiful.
The cycle from the Exe estuary almost up to its source high on Exmoor is a truly majestic expedition that is absolutely stunning, whatever the weather (and we have experienced everything, from warm sunshine to driving rain to mist, fog and cold – so be prepared).
The 55 traverses the rolling, quiet, and quite undiscovered hills of mid-Devon, while the shared route back through quiet lanes above Crediton and Newton St Cyres is just magical. These are rides that you will never tire of.
Over the course of riding these routes over the past two decades, our times have gradually got more and more, what shall we say, relaxed and leisurely, but on the other hand we now find ourselves with more time to smell the coffee and enjoy the stunning scenery.
So there you have it: beautiful and challenging routes, with support along the way by The Bike Shed team; fabulous and ample food served with a smile; and people to encourage and cheer you along the way: what's not to like?
Sobering
It is not hard to see why so many of us return year after year, marking the last Sunday in June in our diaries almost before we've had time to clean our bikes after the ride.
The Nello, of course, is very much more than just a good day out on the bike.
I recall, when Nello and I cycled from Topsham to Venice in aid of FORCE Cancer Charity in 1997, sitting around one evening in the support van with our drivers, Hugh and Harry. Someone commented: "One in four will contract cancer in their lifetime." It was a sobering thought and I'm sure we all glanced surreptitiously at each of the others, seated around that table. Which one of us might it be?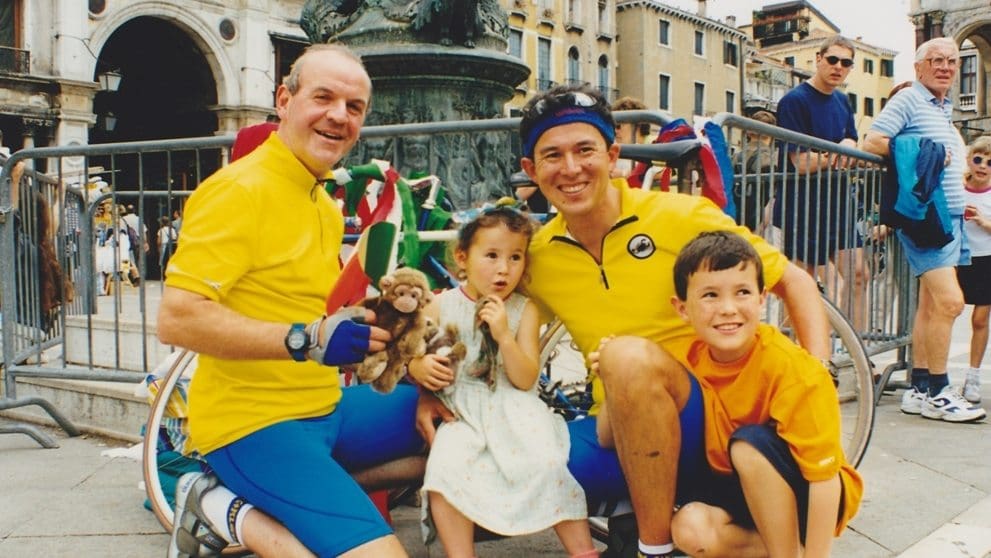 As it turned out, three of us out of four (myself included) contracted the disease. Nello, as strong as a lion on that adventure that took us across France and over the Alps as we made our way to his home on the Venetian lagoon, was diagnosed with cancer just over a year after our return. Sadly, he died in October 1999 and out of the sense of loss that we all felt, the first Nello memorial cycle took place in June 2000, following this same classic route that he and I had devised while training for Topsham-Venice.
Honour
For many people who ride The Nello each year, we do it each for our own personal reasons: to support someone we love who is undergoing cancer treatment; to remember and honour someone who is no longer with us; or perhaps to celebrate having endured a dark and painful period and somehow emerged out the other end.
I have ridden The Nello for all of these reasons, and I know so many others have, as well. The reason that we ride is also the reason that FORCE Cancer Charity exists: to give physical, emotional, psychological, and practical support to cancer patients and their loved ones.
Since its creation in 1987, FORCE has worked tirelessly to improve the quality of treatment and care for cancer patients and their loved ones in Exeter as well as across Devon through its outreach centres. Whether it has been through the funding of state-of-the-art and ground-breaking equipment, much of it pioneered in Exeter itself, or funding research and the training of researchers, to offering complementary therapies in the FORCE Cancer Support Centre, as well as counselling, physiotherapy, mindfulness and wellness, family support, help with moving forward after treatment or dealing with bereavement, FORCE has quite simply been there to make the lives of many thousands of us so much better.
Difference
Over the 21 years that it has taken place, The Nello has been a vital source of funds for FORCE Cancer Charity. The Nello has now raised well over £1 million and in the early years the funds raised were used to help finance the construction of the FORCE Cancer Support Centre.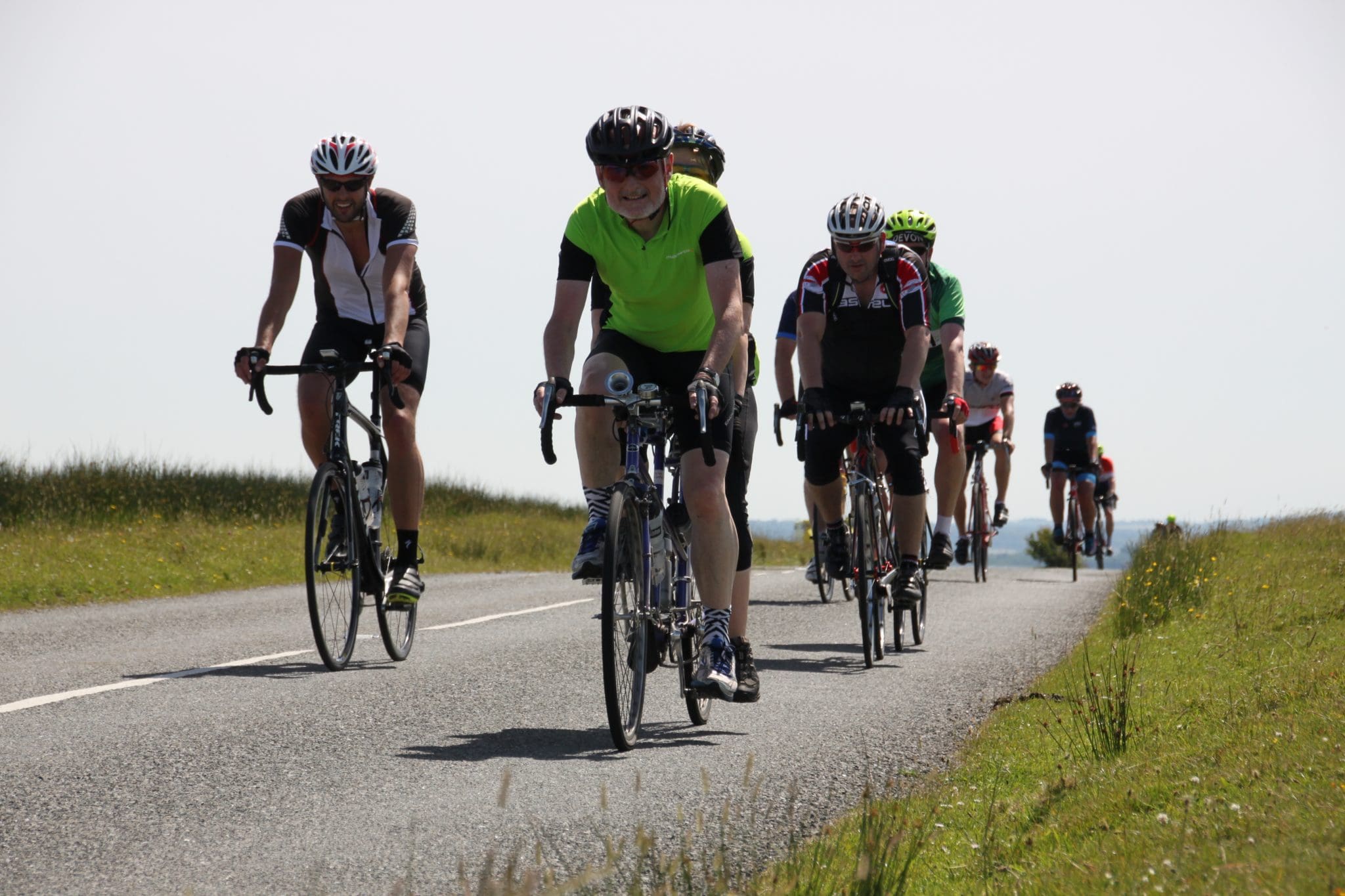 The money you contribute through your entry fee and through funds raised and donated have made a real difference and will continue to make a real difference.
It costs anything up to £1.7 million every year to maintain the services that FORCE provides. Not a single penny of that money comes regularly from the NHS, Government or any other national source. It is all generated by FORCE itself through legacies, fundraising events like The Nello, as well as through its award-winning shop in Heavitree.
When we ride The Nello and when we raise money for FORCE, we can be sure that it is being used directly and efficiently to positively improve the lives of people in our community.
Privilege
It is a real privilege to be able to take part in The Nello each year. I am grateful to FORCE for providing us not only with a cracking day out every year on the last Sunday of June, but more importantly with an opportunity for us to ride in solidarity and support of those going through treatment and difficult times, as well as an occasion to remember and to honour those who we love and miss.
After undergoing cancer surgery myself, I feel grateful, too, for the simple joy of just being alive, that we are all able – no matter how slow or fast – to travel around beautiful Devon on a bicycle, utilising the strength of our legs and minds alone, while at the same time knowing that our efforts are benefitting FORCE and our community.
If you haven't yet entered this year's Nello, I urge you, please, to get your entry in as soon as possible, to begin training for those hills (you need to toughen up more than just your legs!) and to begin fundraising.
If you have already entered, Kim and I look forward to seeing you on the group start line (fingers crossed!) on the morning of June 27. This year, more than ever, I am sure we will all appreciate what a very special event The Nello is and how fortunate we are to have FORCE in our community.
Marc Millon
Topsham, Devon
May 2021