Sign up today for the Santa Cycle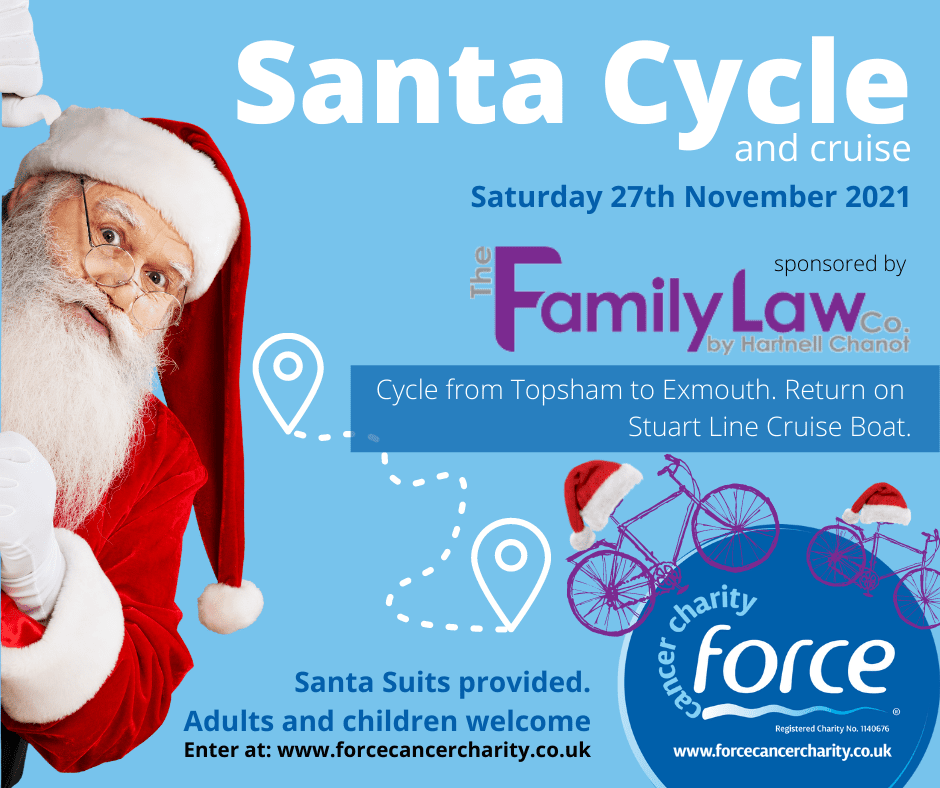 The FORCE Santa Cycle is back on Saturday 27th November 2021, thanks to our main sponsor – The Family Law Company.
This festive ride is a must for your family calendar.
Starting at the Topsham School (Orchard Way, Topsham, Exeter EX3 0DN), our route follows the stunning Exe Estuary cycle path to Exmouth (around six miles) before joining Stuart Line Cruises for an enjoyable trip back up the River Exe to Topsham Quay.
Mince pies, mulled wine and soft drinks will be served on board as families celebrate a fun and festive ride.
Spaces are limited to around 130 cyclists so early booking is advised.
It's £15 for adults and just £7.50 for children.
Favourite
The cost of registration includes: a Santa outfit, the return trip on Stuart Line Cruises, a mince pie and a mulled wine / soft drink. All children receive a little treat at the end.
"The Santa Cycle is a huge favourite of ours as we start the festivities in the lead up to Christmas. It's perfect for all the family to take part in," said FORCE Fundraising Development Officer Olly Watts.
"We anticipate a great response. The opportunity to return to Topsham on a Stuart Line Cruise is what makes this event truly special. Families love it. It's safe and fun as we encourage everyone to wear the Santa outfits we provide.
"We are hugely grateful and delighted that The Family Law Company have sponsored this event again and will be supporting the ride on the day."
Director Jane Chanot from The Family Law Company said: "FORCE is a charity that is close to our hearts and plays an important role for those affected by cancer in our community.
Festive
"We're pleased to be able to support this brilliantly festive family event once more, which has been part of our city's events calendar for nearly a decade."
Now in its ninth year, the Santa Cycle has raised more than £30,000, which has enabled FORCE to continue supporting patients and their families as they come to terms with a cancer diagnosis.
Registering for this event couldn't be simpler. Just head to this special page on our website – forcecancercharity.co.uk/events-calendar/santa-cycle/
Help us make it a real festive year by supporting your local cancer charity.
Register for your place today!