FORCE yoga classes now open to cancer patients and carers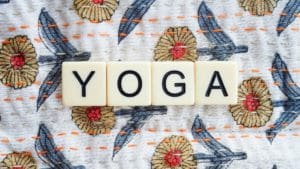 FORCE is opening up its online yoga classes to carers as well as the cancer patients they support.
Specialist teacher Rachel Sherring holds sessions every Wednesday at 3pm, via Zoom.
Classes last for 40 minutes and are designed to help cancer patients through diagnosis and beyond.
They can help people learn what is useful throughout a cancer recovery and ongoing general health and wellbeing.
Those same benefits can help people who care for cancer patients too.
Rachel has been offering yoga at FORCE since 2016.
Therapy
"I started doing one-to-one sessions to show how you can use yoga to manage the side-effects of treatment. Feedback was so good that we decided to take it forward as a therapy-style class," she said.
Yoga with FORCE is specifically intended to help build muscle strength, reduce joint pain, increase flexibility, mobility, coordination and balance.
Relaxation and breathing techniques help cope with day-to-day pain, reduce stress and calm the mind.
Classes are tailored to meet individual needs and make sure everyone is catered for.
It is for anyone wanting to try. And it's not just for women – a lot of men have benefitted.
Enjoy
"Many people say they never thought they would enjoy it but they really do. Some don't like being in a gym where there may be a competitive environment. With yoga you let go of your ego and listen to what your body is telling you," said Rachel.
"The slow movement leaves you plenty of time to put in effort without strain and pain. It is not competitive with other people or yourself so you take responsibility for your own body and what it can and can't do.
"No two people respond in the same way, but you can often see a difference within the third session.
"I teach patients exercises they can use at home, in hospital, having chemotherapy, everywhere for the rest of their life with the tools to help them relax."
Rachel covers a variety of issues in her classes including work on the lymphatic system and breathing exercises.
"For people who join the FORCE class once a week it's their escape. It's their time and space to get in tune with their body, to listen to it and let go of any tension, anger or sadness," she said.
For more information or to register for a class, call 01392 402086/ 406495 or email admin@forcecancercharity.co.uk