Shear class fundraising from Tenzin
Technology expert Tenzin Wangdi has raised nearly £500 for FORCE Cancer Charity by having his head shaved.
Tenzin, from Exmouth, decided to lose his locks in support of wife Helene, who is undergoing treatment for breast cancer.
"My wife was diagnosed a few months ago and after a series of appointments, tests and operations, she started her chemotherapy treatment two weeks ago," he explained.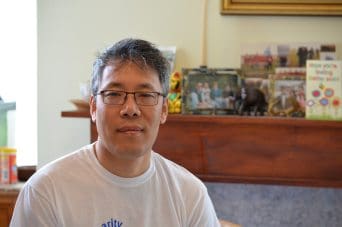 Keeping positive
"This last few months have been a trial for us but we are managing okay and keeping a positive state of mind. I wanted to show my support by shaving my hair when she started losing hers, which is not much, I know, in the great scheme of what she is going through.
"She started losing clumps of her hair a few days ago and decided to get her hair shaved off for practicality. I was not going to let her beat me. Yes, my competitive nature took over and I have gone bald!"
Tenzin, an Applications Trainer at the Royal Devon and Exeter Hospital's Research, Innovation, Learning and Development (RILD) Building, had help to go hairless from his sons.
They were on hand to trim his tresses along with Helen Price from Exmouth mobile hairdressers Oliver's.
Kind and generous
"Helen gave her time for free to shave my hair off as well as offering to donate some money to the charity which she is so passionate about too. It was so kind and generous of her," said Tenzin.
"I am not sure who had the most fun, Helen or the boys as they took it in turns to create various designs at my expense. Arun did a good job with the final shave off whilst everyone watched and commented."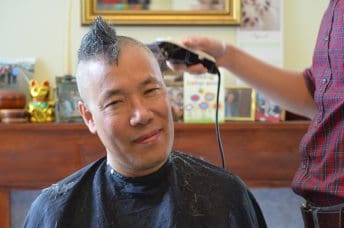 Tenzin admits that his wife didn't think he'd go through with it.
He explained: "I haven't shaved my hair since I was a child. But I was determined to show her how much she means to all of us.
Awareness and respect
"I am generally a confident person and this has pushed that limit. I have to say, I am self-conscious about being bald, even with a hat and really feel for all those women undergoing chemotherapy treatments. My awareness and respect for them has gone up exponentially and I really take my hat off to all those brave people.
"I have no words to describe how grateful I am for the generous donations and kind words. It has been truly overwhelming how many people have contributed hard earned money to our local charity, FORCE, who do a fantastic job for all patients, relatives and friends, local or otherwise.
"They have supported us and helped us to cope with the impact of Helene's diagnosis, assisting us with all the difficulties that come with this devastating illness, that no-one should have to go through.
Road ahead still tough
"I know the road ahead is still rough for us but we are determined to fight our way through it."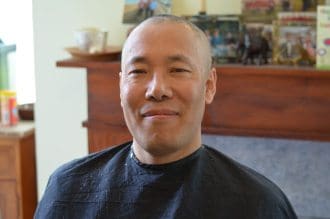 Tenzin has been raising money online at http://uk.virginmoneygiving.com/fundraiser-web/fundraiser/displaySomeoneSpecialPage.action?pageUrl=mywife
"I intend to keep the page going until the end of Helen's chemotherapy treatments. Please share this page as it will help raise an awareness of FORCE and this devastating illness," he said.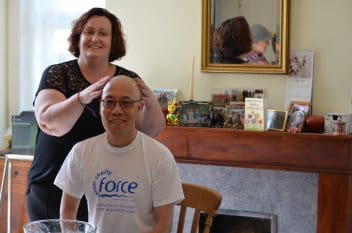 "Anything you're able to donate, big or small, will be greatly appreciated and will be helping to fund a fantastic cause. I'm not sure how much money I'll be able to raise, but whatever I can manage, will hopefully be of help.
"I really appreciate all your support. Thank you so very much."