Mum Andi inspired to ride by toddler son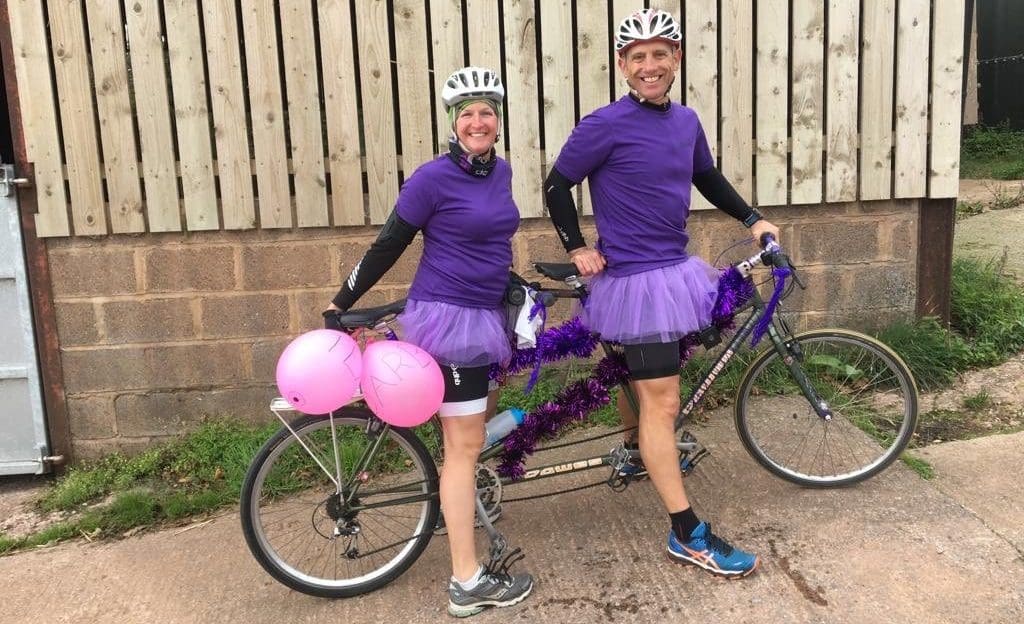 A Devon mum will mark the anniversary of her cancer diagnosis by gearing up for the latest in a series of sporting challenges.
Police dog handler Andi Darbey has signed up to tackle 55 miles on FORCE Cancer Charity's Nello cycle ride on June 30.
Andi was diagnosed with breast cancer last summer. She's had a mastectomy, chemotherapy, radiotherapy and needs injections every three weeks until the end of this year.
But that hasn't stopped her keeping super active.
She even took part in a 30-mile FORCE Autumn Series cycle ride in September just 48 hours after her fifth round of chemotherapy.
Determined
"I was used to running half marathons, marathons, taking part in cycling events and triathlons so I was determined to maintain as much exercising and fitness as I could," said Andi, who lives near Whimple with partner Simon and their toddler, William.
"My motivation came from seeing my son running around and knowing I needed to stay fit and healthy to keep up with him!
"I was also very keen to get back to my dream job," she added.
Andi vividly recalls the start of her cancer journey.
She explains: "In the early part of 2018 I noticed that my right breast was no longer like a 'tea bag' (from breast feeding) but had become a bit firmer.
Sobbed
"Initially I didn't think much of it after being told by the GP that I had dense breasts and it was nothing to worry about, but she would refer me to the breast clinic anyway.
"It was on June 15th 2018 I heard those words 'I am sorry but you have breast cancer.'
"My initial thoughts were, what about my two-year-old son as I sobbed and thought my life was over!
"The night before I was at work as a police dog handler, out searching for an offender. Life was great with my wonderful family doing my dream job.
"But a few words made me think that was it, life was ending.
Aggressive
"I was told that it was an aggressive cancer which had spread to my lymph nodes but it was treatable with chemotherapy, surgery and radiotherapy.
"I began three months of chemotherapy in July and had my mastectomy in November."
Andi is now back at work with Devon and Cornwall Police and is taking part in various triathlons and cycling events.
She has been involved in several FORCE events over the years and was particularly keen to enter this year's Nello as the event, with 100 or 55 mile routes, celebrates its 20th birthday and has been dubbed Il Ventesimo in honour of its Italian roots.
"With this year's event being a special milestone and despite the year I never expected, I have decided to take part," said Andi.
Fortunate
"I was fit before this inconvenience but have been lucky that I could continue exercising during my treatment as I had few side effects.
"It seems only right to be supporting the FORCE Cancer Charity cycle after all they have done for me.
"You could say unfortunately I have found myself using their services, but that I am fortunate to benefit from such an amazing charity.
"I have had first-hand experience of their wonderful facilities, whether it's just popping in for a cuppa, taking advantage of the complementary therapies, courses and counselling.
"I consider myself to be one of the lucky ones. It's gone and the radiotherapy is just making sure. The risk of it returning now is the same as for the next woman. This success is thanks to a huge amount of money that charities, like FORCE, have raised and the research that's been done.
"This year the event is not going to be easy but I am not one to give up or let things beat me, so here's to the challenge!"
You can still enter to ride The Nello – established in memory of Italian restaurateur and cyclist Nello Ghezzo from Topsham – at https://forcecancercharity.co.uk/event/the-nello/