Generous gesture from Kenton salon
Ragamuffins Hair is celebrating 20 years of providing naturally healthier hair services to the people of Devon.
To mark the milestone they have chosen to give back to their community by hosting a special event to raise money for FORCE.
Ragamuffins will be undertaking various fundraising activities on the lead up to an evening of celebrations at Kenton Village Hall on Saturday November12.
All proceeds from ticket sales will come to FORCE.
Salon owner Nikki Farrant said: "Over the years we have lost a number of clients and friends to cancer and there are a number of clients battling the disease at the current time.
"FORCE is a local charity with the belief that anyone diagnosed with cancer deserves the best possible support and treatment close to home. Their support also extends to family as well as patients.
"The charity is especially strong in the village of Kenton and after a 20-year relationship with the village, we felt that we could use our anniversary to raise money for FORCE and at the same time say thank you to the village for their support over the years."
The Kenton salon opened in 1996, offering hairdressing services unlike any other and using a relatively unheard of natural and organic based product line, Organic Colour Systems.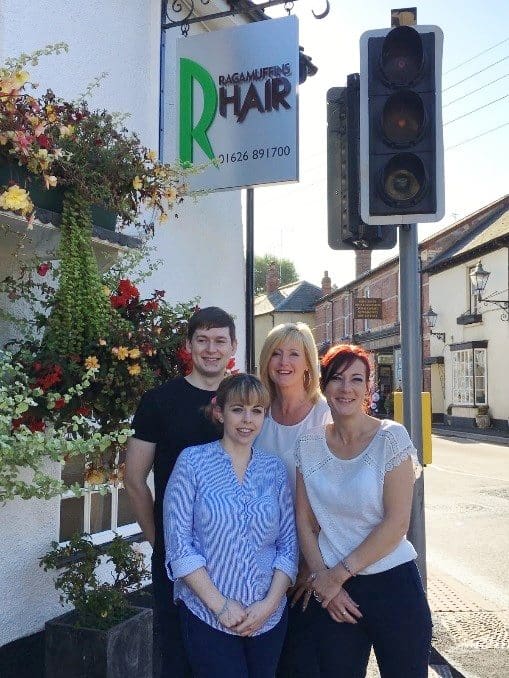 Nikki recalls: "Having seen first-hand the benefits of working with this naturally based product range, there was only one choice for me when I decided to establish my own salon and I've never looked back."
Ragamuffins work exclusively with the Organic Colour Systems range of products and are the longest standing salon worldwide to have done so.
They offer a unique colour service, using products deemed healthier for the client and salon staff, as well as improving the condition of the hair.
Last year Ragamuffins also invested significantly in refurbishing the salon to improve their clients' experience.
"A visit to Ragamuffins isn't just about the result, it's about the whole experience which must be relaxing and rewarding for our clients every time they visit," say salon staff.
UPDATE***UPDATE***UPDATE***UPDATE***UPDATE
Ragamuffins Hair raised a whopping £5,000 for FORCE from their 20th anniversary fundraising event at Kenton Village Hall. It was supported by more than 150 clients, members of the local community, volunteers and representatives from FORCE and Organic Colour Systems. A raffle, auction, tickets sales, donations and other fundraising activities leading up to the event combined to raise a fantastic sum for our charity.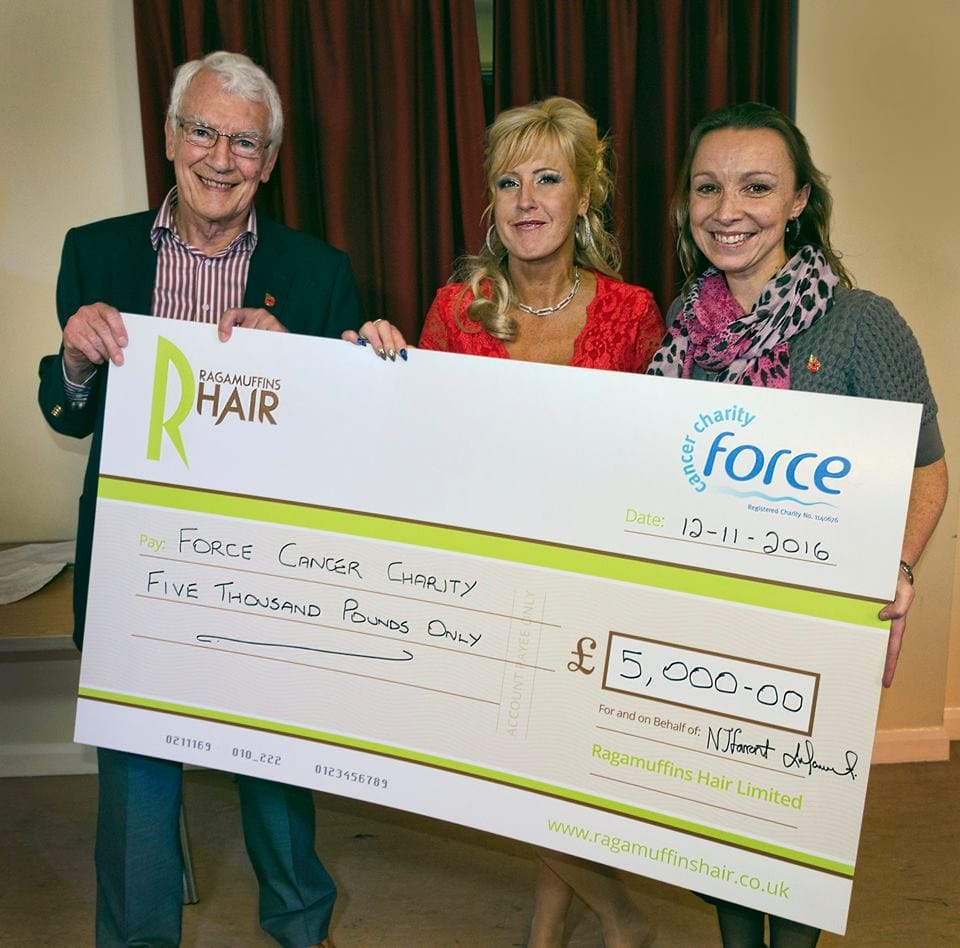 FORCE Community Fundraiser Naomi Cole said: "We are incredibly grateful to Nikki, Rick and everyone else at Ragamuffins for choosing FORCE to benefit from their 20th Anniversary fundraising. As a local cancer charity, the support we receive from Kenton and the surrounding area is superb. This was reflected in the generous auction bids placed on the night, the week-long fundraising at the salon and the generosity of Herb UK. The total raised was incredible. All of our work continues to rely entirely on voluntary donations, so many thanks again to everyone involved – this money will make a huge difference to local people affected by cancer."
Nikki Farrant, Ragamuffins salon owner was overwhelmed by the support from her loyal clients for the local community and added: "I couldn't have asked for a better evening. The community came together to support this amazing charity that has helped so many and in doing so have enabled us to raise an incredible amount of money. We all had a fabulous time and we would like to thank all those involved for making the evening very special".
Ragamuffins Hair would like to give special thanks for their generous donations and involvement in making the evening a success to: Rodean Restaurant, Motion Pitchers, Matt Finnish, Toby Buckland Garden Centre, Berrybrook South West, Chi Oriental Restaurant, Dolphin Inn, Exeter Chiefs, Fraser & Wheeler Estate Agents, Linda Dorian, Mike and Claire Newcombe, Mount Pleasant Inn, Organic Colour Systems, Powderham Castle, SJC Autos, Sue & Geoff Nichols, Swiftprint, The Point at Polzeath, Stewart Privett.