FORCE funds chemotherapy first in Tiverton
Chemotherapy for cancer patients is available in Tiverton for the first time, thanks to £160,000 worth of funding from FORCE.
Money has been set aside from a legacy to pay for the weekly service, which will run alongside our regular support and information service outreach sessions at Tiverton and District Hospital.
The money is funding specialist nurses from the Royal Devon & Exeter Hospital to administer some of the more straightforward treatments to patients, saving them the journey to the hospital's Wonford site in Exeter whenever possible.
FORCE will buy a new van for the secure transport of drugs from Exeter and is also introducing fortnightly relaxation and family support sessions for cancer patients at Tiverton.
The news comes just weeks after we announced that we were marking our 30th anniversary by buying £93,000 worth of equipment to treat women's cancers at the RD&E.
Chemotherapy sessions at Tiverton Hospital are available every Thursday.
The benefits to patients include:
Treatment closer to home, less travelling time and expense
Easier parking
Quieter location and treatment area
Reduced waiting time on the day for chemotherapy administration
Experienced oncology staff from the hospital to deliver treatment
Access to additional FORCE services to support you and your family
Not all cancer patients will be eligible to receive chemotherapy treatments outside the RD&E's main acute hospital site at Wonford. Consultants and chemotherapy nurses will discuss with patients and families whether they are suitable for community-based treatment.
The charity is spending £160,000 on three years of funding for two full-time chemotherapy nurses, who will work in Exeter two days a week and eventually in FORCE's outreach locations for the remaining three.
FORCE Chief Executive Meriel Fishwick said: "FORCE has patient quality of life at the heart of everything we do. We are delighted to support this new service, which will help bring some treatments closer to home for cancer patients in the Tiverton area."
FORCE has worked closely with the RD&E's Lead Cancer Nurse Tina Grose and Helen Daggar, Matron on the hospital's Cherrybrook Day Case Chemotherapy Unit, to get the new chemotherapy service off the ground.
Tina Grose said: "It's been really exciting to work with FORCE to make this happen for our patients. It extends FORCE's already outstanding work to support local cancer patients and it's completely in line with one of the RD&E's key objectives, which is to offer more of its clinical services in the community, closer to people's homes and lives.
"It's also brilliant that FORCE is introducing relaxation and family support sessions at Tiverton. Cancer is a life-changing illness and it can be very isolating for both patients and families. Offering more holistic care and support alongside chemotherapy can reduce those feelings of isolation and make what is a very tough experience just a bit more manageable."
FORCE had already designated nearly £500,000 to improve accessibility to its services by taking them into the community.
Tiverton was the first place to benefit from this key element of the charity's strategic plan to ensure that more people in the county receive the best available treatment and support as close to home as possible.
FORCE began its outreach services in the town in February 2014.
Each Thursday a team of professional staff and volunteers provides support and counselling, complementary therapies and information at Tiverton Hospital.
Once the Tiverton project was established, a similar model was rolled out in Okehampton from June 2014 with plans to spread further into Devon.
 FORCE is introducing fortnightly family support and relaxation and anxiety management in both Tiverton and Okehampton.
Tiverton Hospital League of Friends kindly donated four specialist chairs for patients receiving chemotherapy at a cost of £3,021.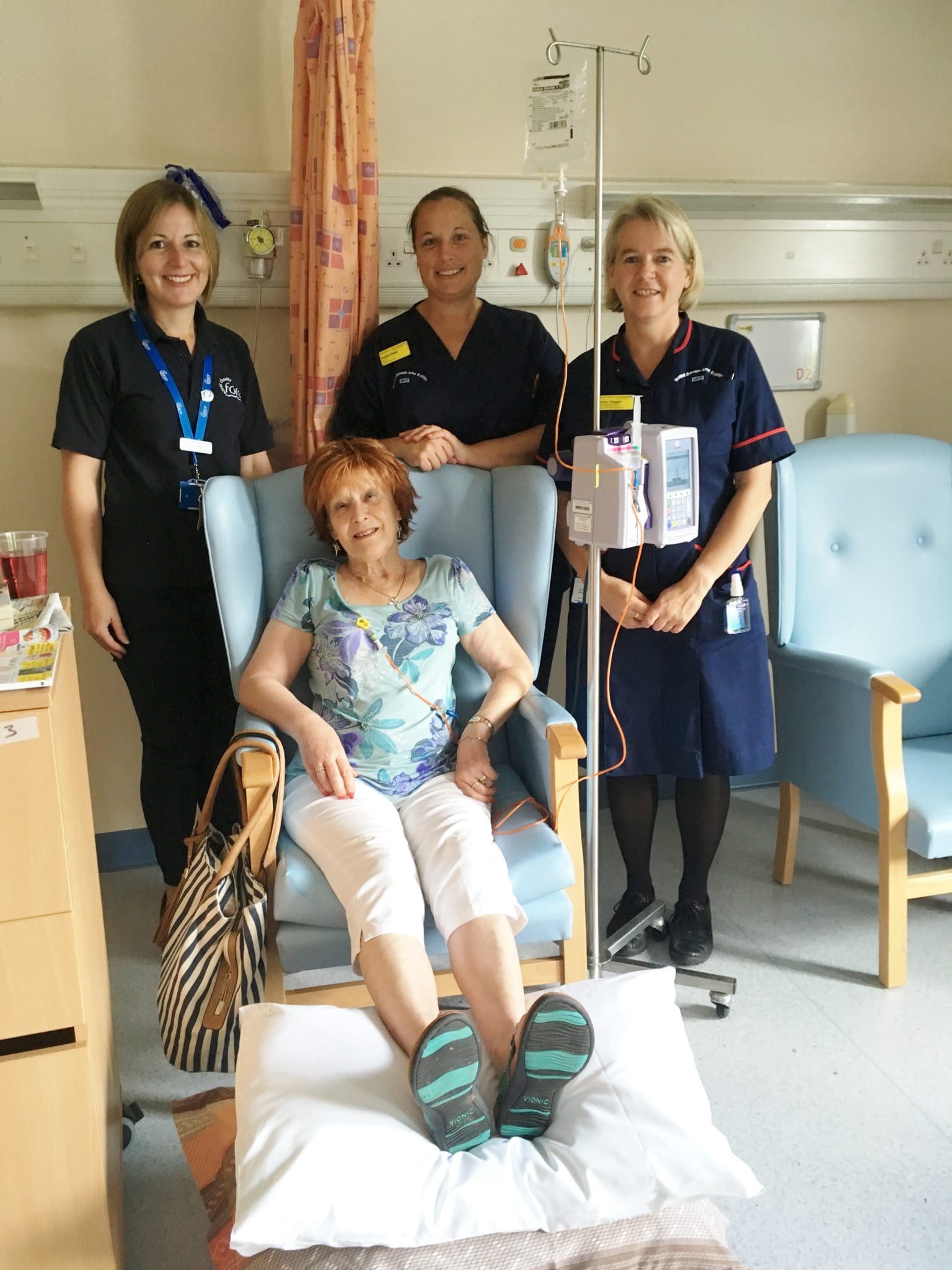 The first patient to receive chemotherapy in Tiverton was Carole Rimmer, co-incidentally a supporter of FORCE for nearly 30 years.
She's seen here with (left to right) FORCE Outreach Co-ordinator Sue Phillips, chemotherapy nurse Hayley Reed and Helen Daggar, Matron on the RD&E's Cherrybrook Day Case Chemotherapy Unit.
Carole, from Crediton, has been treated for breast cancer three times since 1987 and is now receiving chemotherapy to combat uterine cancer.
She said: "I am so happy that I was offered the opportunity to have my chemotherapy at Tiverton Hospital.
"It is not only nice for the patient but for the nurses too, who are always under so much pressure in Cherrybrook that they barely have time to talk to patients and you are often waiting for a very long time between procedures.
"You are always in and out very quickly in Tiverton, making you feel satisfied and not disgruntled and the nurses are able to bond more with the patients.
"The psychological benefits of this cannot really be conveyed. My only way to describe it is that I don't feel as if I have been for treatment and that is a big plus. I am grateful to FORCE for setting this up and I thank them for it."