Five grand reasons to cheer on Team Oncology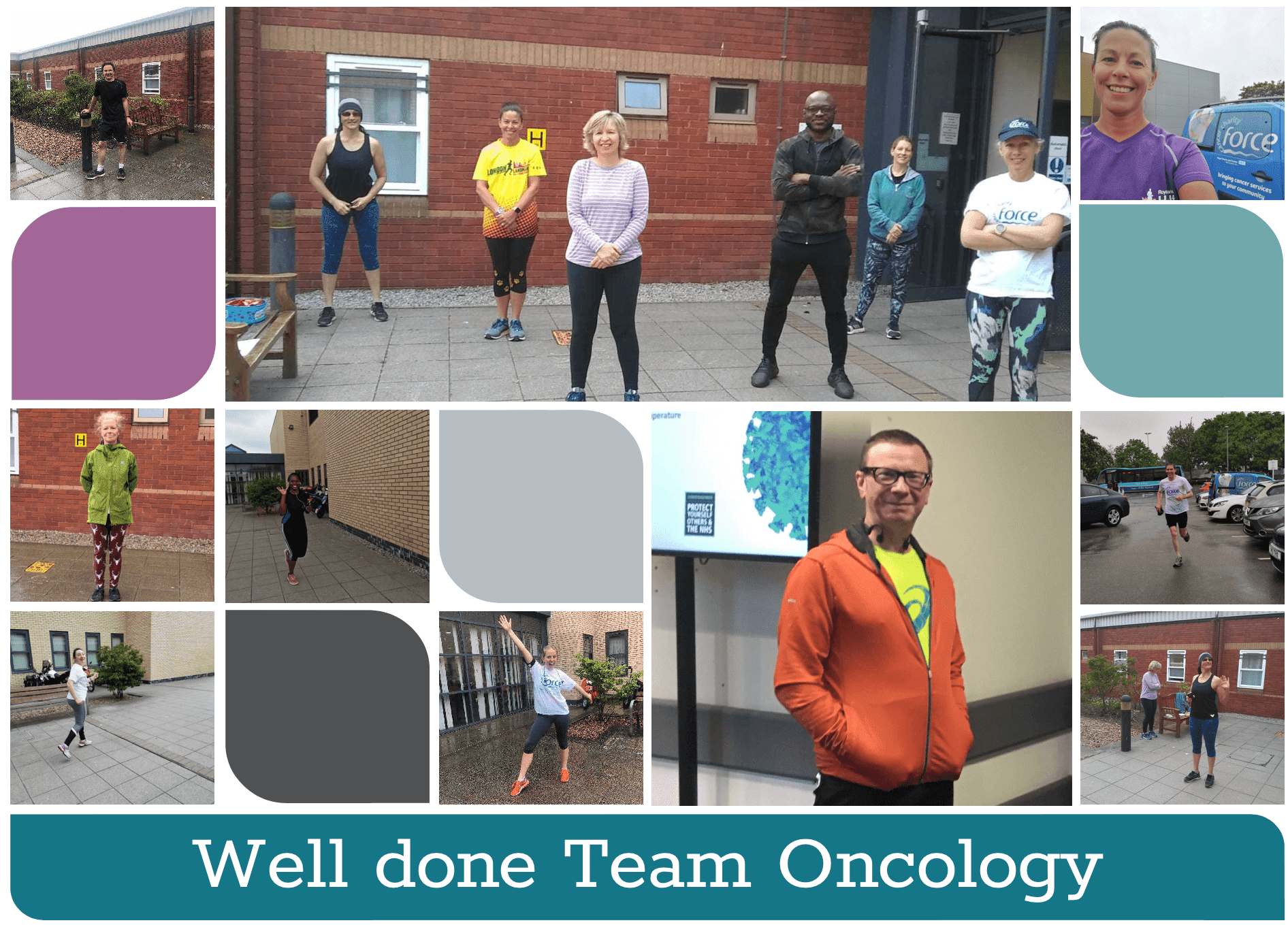 The Royal Devon and Exeter Hospital Oncology Team reached the half way point at lunchtime today in their challenge to raise money for FORCE.
Doctors, nurses, radiographers and other healthcare professionals from the hospital's oncology department are doing laps of the Wonford site during their breaks.
A team of 65 runners and walkers has already completed more than 300 circuits – roughly 600 kilometres – and raised more than £5,000 so far.
The challenge was thought up by Jenny Forrest, consultant clinical oncologist and a trustee at FORCE.
She said today: "We've had mixed weather but it's been good for morale and people have enjoyed participating and the physical exercise, although some are a bit stiff afterwards!"
Competitive
The record number of laps completed in an hour stands at six but the challenge is on to make it seven.
The event is not technically competitive but Dr Forrest admits: "Although the main aim is to maximise fundraising and thank FORCE and even though it is the taking part that counts and it is not a direct race, we will be counting laps!"
National hero Captain Tom Moore inspired the team of cancer specialists to take on their own fundraising challenge for FORCE.
They are doing it in teams of at least 12 people every day this week between 7am and 7pm each day. Team members are setting off at different times and social distancing rules apply throughout.
Their efforts have struck a chord with people wanting to thank the oncology team for the amazing work they do and, of course, FORCE.
Thanks
Here are just some of the comments from their sponsorship page.
"Thank you for going the extra mile to help your patients."
"Go team, you're all amazing! I'm lucky enough to benefit from cancer treatment and care at the RD&E and know what fantastic work you all do. Thank You!"
"FORCE were an oasis of calm in a time of turmoil so I delighted to support you. Go Team Oncology!"
"You are all fab and do an amazing job!!! Really appreciate you thinking about FORCE."
"Can't praise the team enough for looking after me, wonderful people."
"Fantastic….thank you for all that you are doing to support this great charity."
"We are so lucky to have you in Exeter! Thank you for looking after us."
"Well done Oncology Team, great support for an amazing charity!"
"Well done. Heroes don't fly, they walk! I'm so proud of you all!"
"I wish you all every success in your fundraising mission. May you raise lots of money for a truly worthy cause."
"Well done guys, great cause. Embrace the challenge and feel the burn."
"Thank you FORCE. The human spirit is stronger than anything that can happen to it."
"Well done to all who are involved with this. Exeter's oncology unit has got me through my TN breast cancer when I was diagnosed a year ago, incredible staff and FORCE have been there from the start too, supporting me and my family and still are now xx"
"Amazing work on top of the already super work you do every day! You're all heroes!"
"Well done Team Oncology. You're such lovely people. Lovely idea for such a loved charity."
Support
You can support the RD&E Oncology Department's challenge for FORCE at virginmoneygiving.com/Team/TeamOncology
Dr Forrest said: "Despite the current COVID-19 pandemic, cancer care continues but our patients are more isolated than ever in this time of shielding and virtual consultations.
"FORCE is a fantastic resource for all our patients providing not only counselling and psychological support but financial advice, physiotherapy and more.
"In addition, FORCE provides funding for our outreach clinics at Honiton and Okehampton more valuable than ever to help keep patients away from the main hospital.
"Many events have been cancelled so we put our heads together to come up with something that we could do to support FORCE despite the current lockdown measures to recognise all that FORCE gives our patients to help them in the face of a cancer diagnosis."