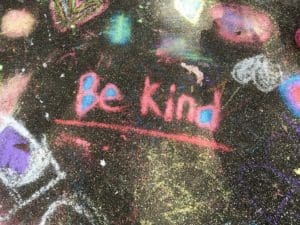 World Kindness Day is celebrated around the world on November 13 every year.
It encourages people to be kinder to others and to themselves, to make the world a better place by celebrating and promoting good deeds and pledging acts of kindness as individuals or organisations.
Pioneering aviator and author Amelia Earhart said: "A single act of kindness throws out roots in all directions, and the roots spring up and make new trees."
It's a theme taken up by FORCE Oncology Support Specialist Sally Hoult.
"Although World Kindness Day was marked on Saturday, we can all understand the sentiments behind it which we can help to spread throughout each and every day, not just on one day every year," she said.
Compassion
"Living in a kinder society can help us all maintain health and happiness individually and collectively play our part in being kinder to our beleaguered world too.
"World Kindness Day is to help everyone understand that compassion for others is what connects us all together. Kindness and connection go together.
"The aim of World Kindness Day is to spread kindness, and traditionally to try and encourage kindness to prevail over hatred.
"Whether it's helping out someone with chores, taking the time out to ask how someone is doing, or thanking someone for their kindness."
The word kindness has its roots in the Old English word kyndnes, which itself is derived from the Middle English word kindenes, meaning courtesy.
Generosity
Kindness is a type of behaviour marked by acts of generosity, consideration and selflessness.
We can all promote kindness in many different ways; perhaps by trying out random acts of kindness; giving compliments to people; holding a door open; giving up your seat on a crowded train/bus; making a phone call to someone on their own; giving extra hugs to those you can!
Sally also highlights the importance of being kind to yourself, too.
People who are constantly kind produce 23% less cortisol, which is the stress hormone.
Because of the lower levels of stress, people who practice kindness age slower than the average population.
Emotional warmth releases the hormone oxytocin, which dilates the blood vessels and therefore lowers your blood pressure.
Grounding
Maybe think about writing a poem highlighting the things you appreciate about yourself and your life.
Try spending a few moments grounding yourself and listen to your favourite music; look at your favourite pictures; wrap yourself in your favourite blanket and sing!
Here are a few facts about kindness.
Teaching children to be kind to everyone, and to stand up to bullying when they see it, helps encourage them to be kinder adults.
Kindness is contagious – researchers from the Stanford Social Neuroscience Laboratory found that when people see someone else being kind, they are more likely to act kindly towards others themselves.
Celebrating kindness and the benefits we derive from this core aspect of the human condition is valuable. It reminds us that we are neither alone in our lives nor do we live in a world where goodness is not apparent.
"Love and compassion are necessities, not luxuries. Without them, humanity cannot survive." – Dalai Lama