Eco-friendly Christmas decorations for FORCE tree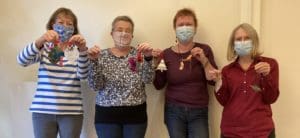 The FORCE Christmas tree in Princesshay will be trimmed with especially eco-friendly decorations this year.
A group of patients who have been supported by FORCE came together at the charity's Support and Information Centre to create a wonderful array of decorations from recycled materials.
They are ready in time for the big switch-on of Christmas trees representing a host of local charities this Thursday (November 18).
The project was co-ordinated by Rachel Stewart, who makes bespoke jewellery from upcycled materials. 
She used the same skills to create the FORCE tree decorations from old drinks cans, with help from Jane Martin, Rachel Toll, Lesley Hunter and Lisa Belsher.
Unique
The result – a unique set of festive creations.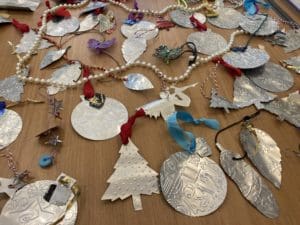 Rachel and her team used a special gadget to cut the cans into shapes and give them texture before adding recycled ribbon and string to attach them to the tree. 
The creative workshop was the first time the creative crew had all met face to face.
They had variously seen each other online thanks to free FORCE support groups
Rachel Toll said: "Throughout the pandemic we have all supported each other online and would have met earlier but for all the restrictions.
Important
"Masks and other restrictions have put up extra barriers, so it is even more important that FORCE is here and we are able to get together."
"It's nice that FORCE is open and here for us to meet up and do this," added Lesley.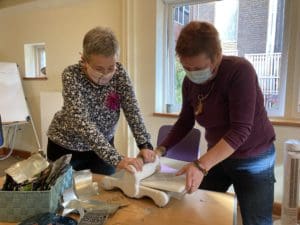 Rachel Stewart and Lesley were part of the same group for people dealing with a secondary cancer diagnosis.
"I found the secondary group really helpful," said Rachel. "It took a lot of fear out of what I was dealing with. 
"It seemed like no-one wanted to talk about it, they were scared to. With new drugs and treatments, there will be a lot more people living well with cancer."
Encouragement
"It dealt with a lot of issues in a very straightforward way. I hadn't met anyone with secondary cancer before. The group gave me hope and encouragement," said Lesley.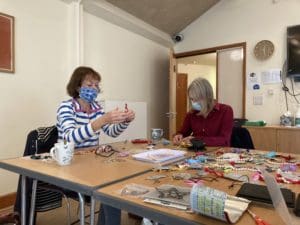 Jane was diagnosed with breast cancer for the second time in five years.
She was supported by FORCE after her first diagnosis and became a fundraiser and volunteer for the charity.
She has just begun a Moving Forward After Treatment course to help people adjust to life after treatment – a time when fewer appointments and less regular contact with the hospital can feel like a safety net has been removed.
Share
"It's been really good to see people face to face and be able to share our experiences," she said.
The FORCE support centre in the grounds of the Royal Devon and Exeter Hospital's Wonford site is open every weekday, 9:30am to 4:30pm.
You don't need an appointment to use the centre – simply drop in for advice, a cuppa and friendly chat or just a quiet space.
FORCE provides free support and information to anyone affected by cancer – patients and their families.
The charity offers counselling, group sessions, complementary therapies, benefits advice, specialist physiotherapy and exercise guidance and other health and wellbeing support.