Team Oncology raises more than £7,000 for FORCE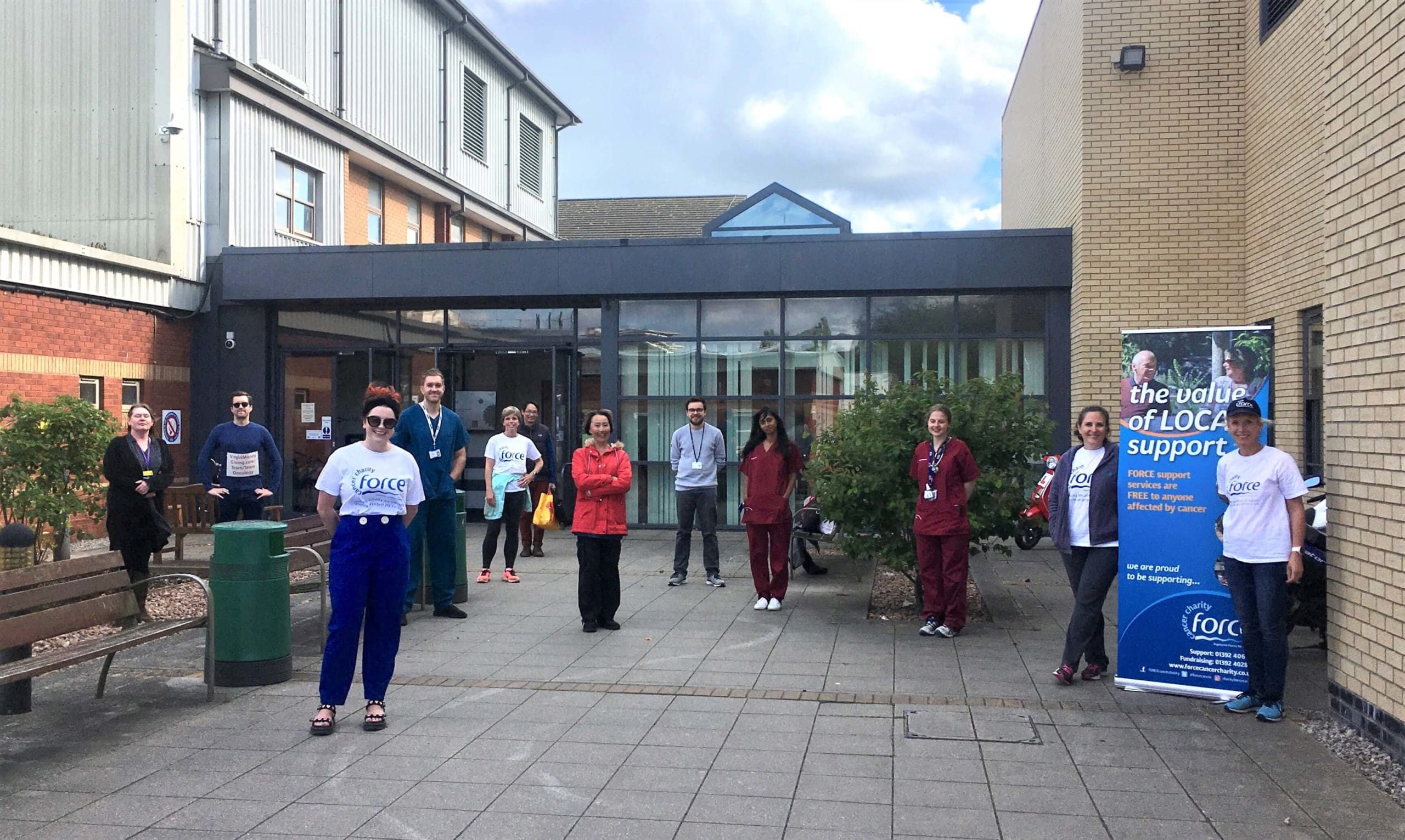 A team of cancer specialists from the Royal Devon and Exeter Hospital has raised more than £7,000 for charity by doing laps of the Wonford site.
Eighty-six people took part in the challenge to run or walk two-kilometre circuits around the perimeter of the RD&E campus last week, before and after work and during their breaks.
Team Oncology included doctors, radiographers, physicists, head and neck specialists, paediatricians, nurses, a dietician and managers.
Team members set off at different times and social distancing rules applied throughout.
They completed a total of 642 laps, covering 1,284 kilometres or nearly 800 miles.
Lauren Rowberry from the medical physics team did the most laps overall with 27, including six in the space of an hour on two occasions. She was the only woman taking part who managed to get around half a dozen times in 60 minutes during the week.
Consultant paediatrician Dr Simon Parke, who specialises in oncology and haematology, managed the most circuits in an hour with eight.
Support
They all took part to raise money for FORCE Cancer Charity, which is still supporting local people affected by cancer during the Coronavirus pandemic lockdown.
The challenge was set up by Dr Jenny Forrest, consultant clinical oncologist and a trustee at FORCE.
"The laps for FORCE challenge has been very well supported by all staff groups involved with treating people with cancer, showing how much we appreciate what FORCE provides for our patients," said Dr Forrest.
"Everyone enjoyed it and there is a request to do it again next year. It's been a good morale boost and a distraction. Many say they are going to continue to run before work or in their lunch hour," she added.
The team's efforts have struck a chord with people wanting to thank the oncology department for the amazing work they do and, of course, FORCE.
Heroes
Here are just some of the comments from their sponsorship page.
 "Thank you for going the extra mile to help your patients."
"Go team, you're all amazing! I'm lucky enough to benefit from cancer treatment and care at the RD&E and know what fantastic work you all do. Thank You!"
"FORCE were an oasis of calm in a time of turmoil so I delighted to support you. Go Team Oncology!"
"You are all fab and do an amazing job!!! Really appreciate you thinking about FORCE."
"Can't praise the team enough for looking after me, wonderful people."
"Fantastic. Thank you for all that you are doing to support this great charity."
"We are so lucky to have you in Exeter! Thank you for looking after us."
"Well done Oncology Team, great support for an amazing charity!"
"Well done. Heroes don't fly, they walk! I'm so proud of you all!"
 "Thank you FORCE. The human spirit is stronger than anything that can happen to it."
"Well done to all who are involved with this. Exeter's oncology unit has got me through my TN breast cancer when I was diagnosed a year ago, incredible staff and FORCE have been there from the start too, supporting me and my family and still are now."
"Amazing work on top of the already super work you do every day! You're all heroes!"
"FORCE supported me and my family so fantastically. Devon is so lucky to have such a fantastic charity."

"Thank you for your care, support and help throughout my stays in both Yeo & Yarty wards last year & for your unwavering patience and understanding."

"Always giving without expecting to receive. Well done you guys. Respect."
You can still support the RD&E Oncology Department's challenge for FORCE at virginmoneygiving.com/Team/TeamOncology
Friends
Encouraging people to keep donating, Dr Forrest said: "Despite the current COVID-19 pandemic, cancer care continues but our patients are more isolated than ever in this time of shielding and virtual consultations.
"FORCE is a fantastic resource for all our patients, providing not only counselling and psychological support but financial advice, physiotherapy and more.
"In addition, FORCE is providing the funding for ongoing chemotherapy at our outreach clinics in Honiton and Okehampton, more valuable than ever to help keep patients away from the main hospital.
"Many fundraising events have been cancelled so we put our heads together to come up with something that we could do to support FORCE despite the current lockdown measures to recognise all that FORCE gives our patients to help them in the face of a cancer diagnosis."
FORCE Chief Executive Meriel Fishwick said: "FORCE (Friends of the Oncology and Radiotherapy Centre, Exeter) has raised more than £22 million for local cancer services since its inception in 1987. To see such support from our 'Friends' some 33 years on and their personal commitment to help us weather this crisis, is just the best thing we could have asked for."