Super cyclist Helen hits the heights for FORCE
Super cyclist Helen Hulme has just completed another epic bike ride in aid of FORCE Cancer Charity.
The former Devon County Council social worker from Exeter rode 522 miles from Girona to Bilbao.
The seven-day trip involved 43,545 feet of climbing in the Pyrenees – that's one and a half times the height of Mount Everest.
What made the trip an even more remarkable feat of endurance were the conditions she encountered.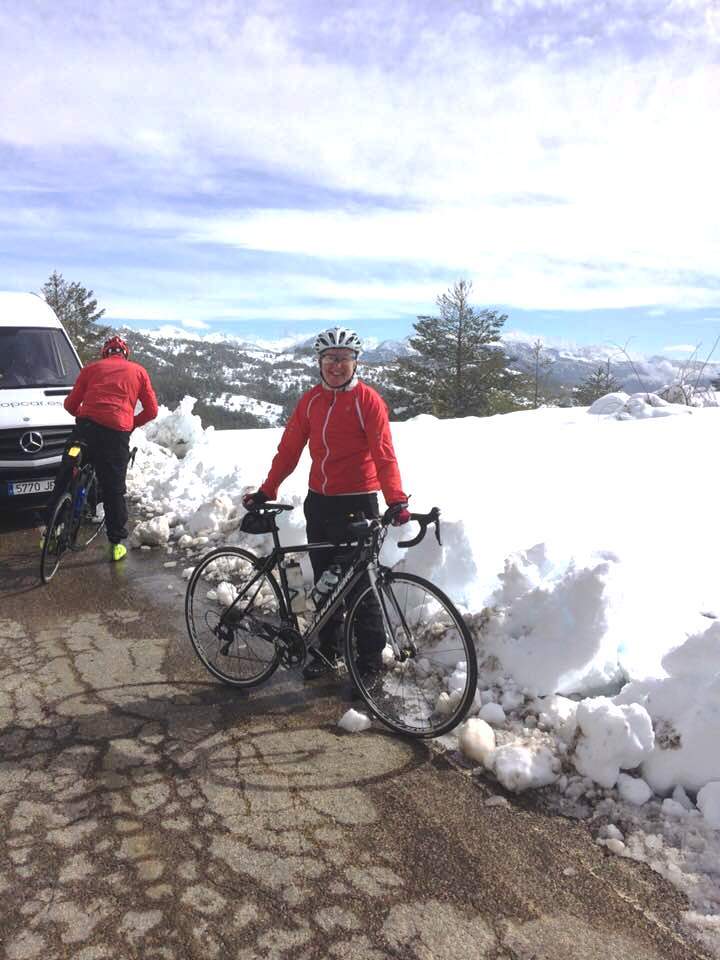 "We had freak weather. We cycled in wind, thick snow and heavy rain, there were rivers bursting their banks and flooding on the roads that made it so dangerous," said Helen.
"I had cling film and tin foil wrapped round my feet and newspapers shoved down my top for extra insulation. Even the people who had packed appropriate kit had to do the same. It was freezing. I have never been as cold in my life and I'm from Bolton!"
She was inspired to keep going by the level of support she received from friends and family.
Helen has raised £1,200 for FORCE and she admits: "There were times when I thought I would never be warm again and others in the group were giving up but the fact that so many people had sponsored me and were sending me messages of support kept me going."
Helen is no stranger to long distance tours – she has ridden Land's End to John O'Groats, Mizen Head to Malin Head (the length of Ireland) and the Channel to Med (France North to South) – but Girona to Bilbao (The Girbil) was the toughest.
The next big ride for her is FORCE's single biggest event of the year, The Nello, on Sunday June 24.
She'll join up to 1,500 cyclists who set out to pedal 55 or 100 miles from Topsham Rugby Club to raise money for FORCE, which offers support to anyone locally affected by cancer.
"Every single penny raised will make a huge difference to supporting those affected by this hideous disease and to beating it," said Helen.
You can still sponsor her Spanish expedition at https://uk.virginmoneygiving.com/HelenHulme