Shout out for Women Can runners and volunteers
The Women Can Marathon is less than a month away and there's still time to be a part of this unique event.
You can still enter the women-only challenge around the East Devon countryside and coastline on Sunday May 27.
Or you can play your part in what promises to be a memorable day by volunteering – there are plenty of opportunities for marshalling around the course, helping out at water stations or the start/finish area in Tipton St John.
Women Can is for runners and Nordic walkers who can tackle the full 26.2 mile distance as an individual or enter as part of a relay team of two, three or four.
Around 300 women are expected to take part and FORCE is one of the charity partners along with Women in Sport, BRACE Alzheimer's Research and Exeter Dementia Action Alliance.
The walkers will set off at 8am and the runners start at 9am.
South West Water are helping provide water for the 10 water stations to offer a more environmentally friendly solution to keeping runners hydrated.
With the growing awareness of the impact of single use plastic, there will be no individual bottles. Runners are encouraged to carry their own refillable bottles or backpacks as there will be adequate supplies at all water stations to top up.
"This may add a few minutes on to your time, but it will be the same for everyone – and a chance to admire the stunning scenery as you do so," said Women Can administrator Jo Earlam.
"This event is not about setting a Personal Best, completing this hilly off-road course is a challenge in itself, never mind trying to get a fast time. If you do not wish, or not able to carry your own water bottle, there will be refillable cups at each water station, which you will be asked to deposit in nearby bins before you continue."
The marathon starts and finishes at Tipton St John Playing Fields where organisers aim to create a fun atmosphere throughout the day.
There will be a full range of refreshments available on site throughout race day, including breakfast options served by event marquee provider Brooklands Events, lunch and a post-event hog roast from 5.30pm with live music from local bands until 9.30pm.
A licensed bar will be open all day from 11am and there's camping availability on the field at £5 per pitch, plus £2.50 per extra person.
"We hope people will come along and enjoy the day with us. It'll have the feel of a festival and something all the family can get involved in," said race director Pauline Beare.
If you would like to volunteer, please go to https://www.womencan.co.uk/event-info/marshalls-volunteers
To enter the Women Can Marathon, visit http://www.sportsystems.co.uk/ss/event/WomenCanMarathon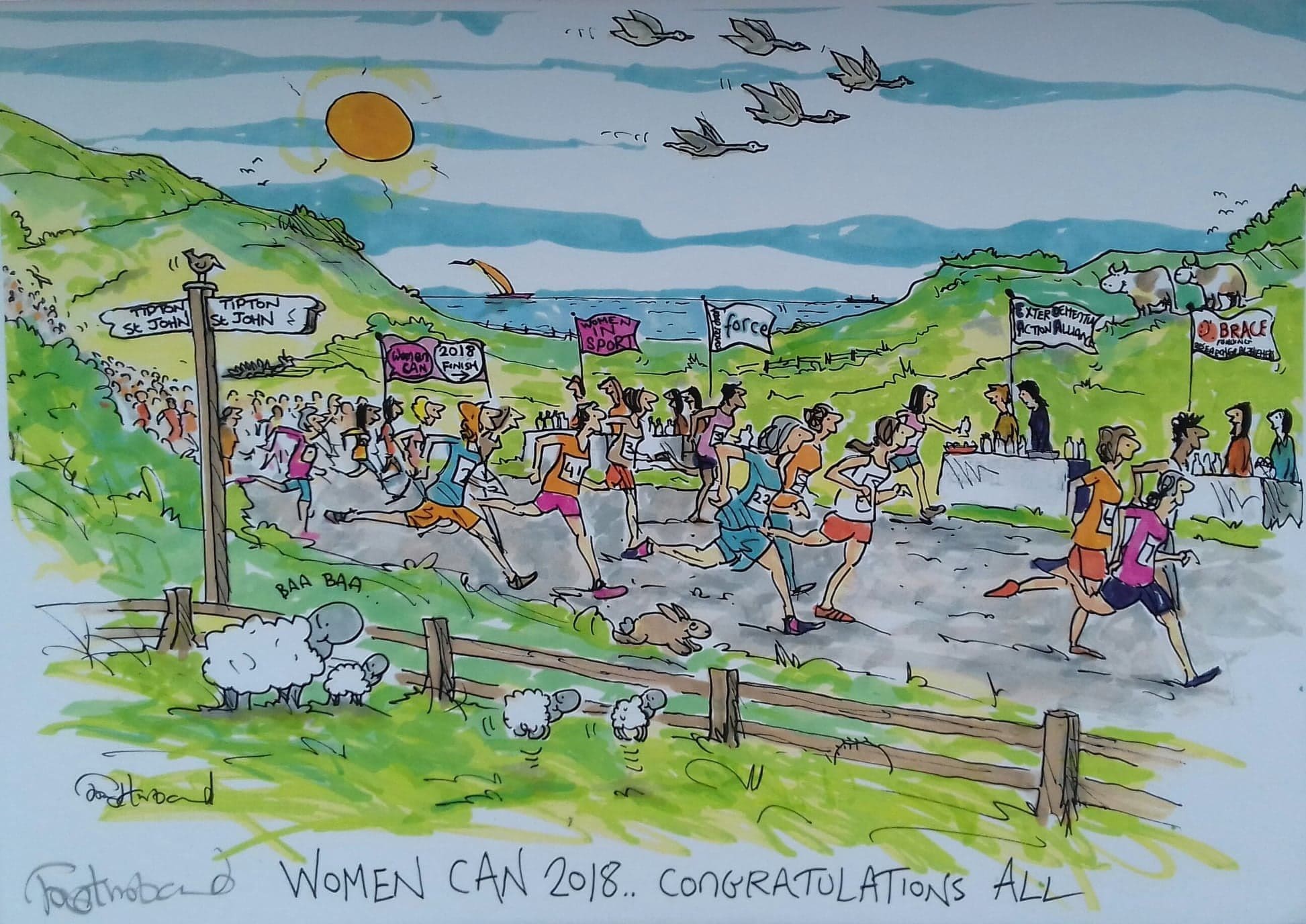 Private Eye illustrator Tony Husband has created a special Women Can 2018 limited edition cartoon. It depicts the runners heading back towards Tipton St John, having left Sidmouth behind with those cruel hills mostly conquered and some endearing, cheering rabbits and sheep. Tony has signed and individually numbered 150 A4 size copies of the cartoon, with all proceeds from sales going directly to be shared among the four charities. A minimum £10 donation is suggested and you can submit an order request by email, pledging £10 minimum, to jo@womencan.co.uk to reserve your print. "We really hope to sell out, it's a fabulous cartoon and a great way to donate directly to these good causes," said Jo Earlam.