Our first virtual cheque presentation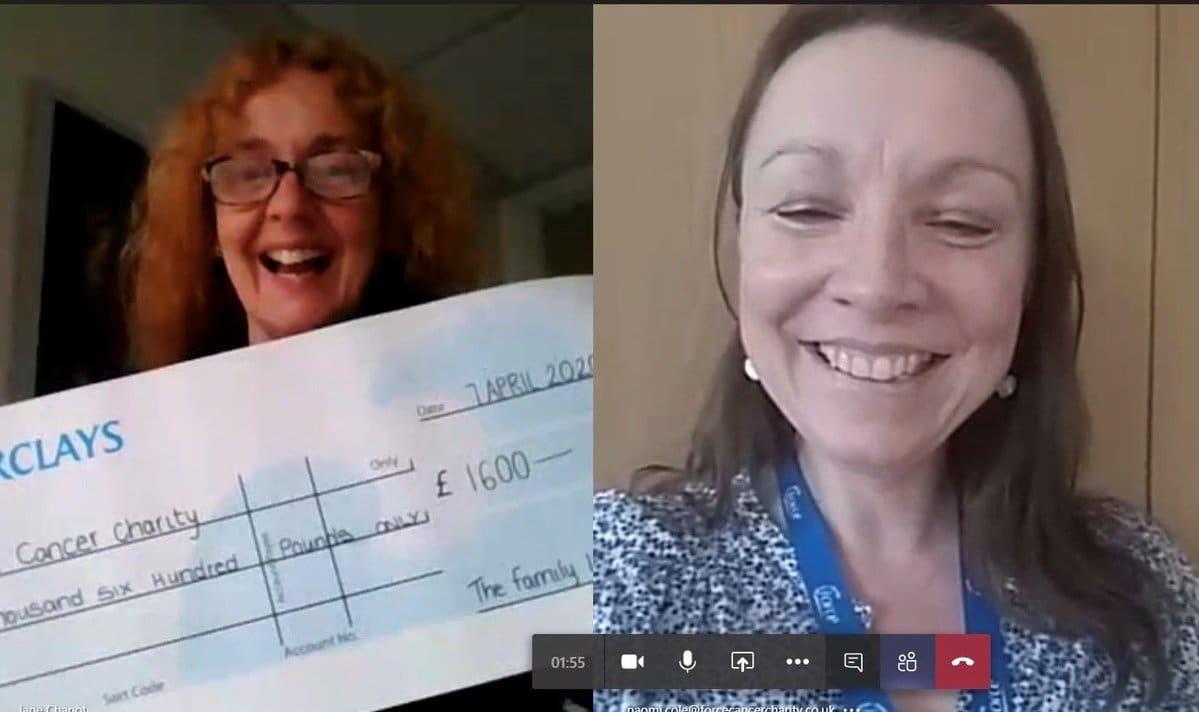 As we get to grips with trying to think of news ways to fundraise and maintain our support services while doing everything we can to stay safe and protect the NHS, we received a lovely boost this week.
Our friends at The Family Law Company handed over the £1,600 they  raised for FORCE in memory of a colleague who died from cancer.
The current lockdown meant that the presentation was carried out virtually through a Microsoft Teams meeting when Director Jane Chanot 'met' Naomi Cole, Community Fundraising Coordinator with FORCE to present the cheque.
Jane said: "The money was raised by the company as a tribute to my former secretary Helen Finch, a much loved and valued member of our team who passed away last year.
Positive
"Although it was sad not to be able to hand over the cheque in person, it was a positive experience to remember Helen through the donation."
Two main fundraising events were held. The company's annual charity fundraising skittles event in November raised £1,300, with the aptly named Helen Finch Memorial Trophy presented to winning team Harts and Sparks, who also received a miniature version to keep.
And in early February a special Walk for Helen saw more than 20 colleagues join with Helen's family for a walk at Killerton to mark one year since her death.
Welcome
FORCE's Naomi said: "We are very grateful for the ongoing support of The Family Law Company and this latest donation is extremely welcome at this difficult time.
"We missed being able to see Jane and her team in person but a virtual cheque presentation was the next best thing and we look forward to saying a proper thank you as soon as we can."
The money raised will go into FORCE funds to help the charity continue to provide its vital service, still available despite the closure of our centres in Exeter, Okehampton, Tiverton and Honiton.
FORCE has redesigned its services to offer ongoing support to cancer patients and their families with all our counselling appointments via phone and video calls. The same goes for our benefits advice service.
Please call if you or anyone you know who is affected by cancer needs support.