Desk cycle challenge raises grand total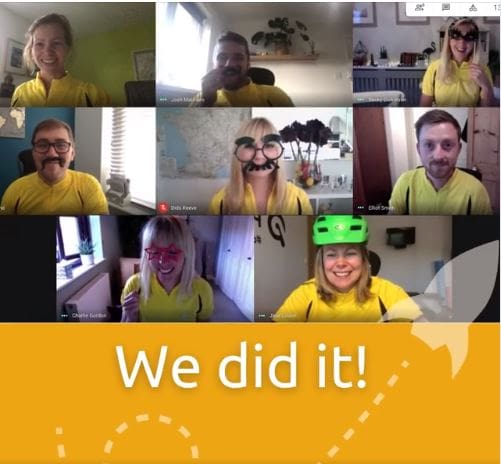 Devon digital advertising agency, Launch Online, has raised £1000 for the FORCE Cancer Charity Autumn Bike Ride initiative after the team cycled over 245 miles from underneath their desks during November.
With the help of a fleet of mini pedal exercisers, which fit underneath the desk, the team generated over 389,466 revolutions on their desk bikes over the four weeks of lockdown while they worked.
Senior account manager Elliot Smith was the overall winner of the challenge, nicknamed the Tour de Office, achieving an amazing 101,463 revolutions over the month-long competition.
Jaye Cowle, founder of Launch Online said that it was important to keep the team active during lockdown.
"Thank you to everyone who supported and donated to FORCE during the Tour de Office," she said.
It's a great local charity and I was so pleased to see the whole team get so behind it and work their socks off. Well done to Elliot for winning the overall yellow jersey, although Charlie wasn't far behind with over 94,000 revolutions!"
This year should have seen cyclists gather for the 10th anniversary of the FORCE Autumn Bike Ride fundraiser.
COVID meant it couldn't happen for 2020 but FORCE encouraged people to cycle any way they could to raise funds.
FORCE Community Fundraiser Naomi Cole said: "We've loved seeing the updates from the 'Tour de Office' and congratulations to Jaye and whole team on the pedalling front as well as with the fundraising.
"We are so grateful to Launch Online and to everyone who has sponsored them.  The total raised is fantastic and really is hugely appreciated.
"Hopefully see some of you for one of our Nello rides in the future, but in the meantime – wishing you all a very Happy Christmas and thanks again."