Chiefs back our Christmas bash with star prize
It is only five weeks until FORCE's big "Christmas at the OK Corral" bash at Sandy Park.
And we have today announced our star auction prize that will be available only to party-goers on December 7.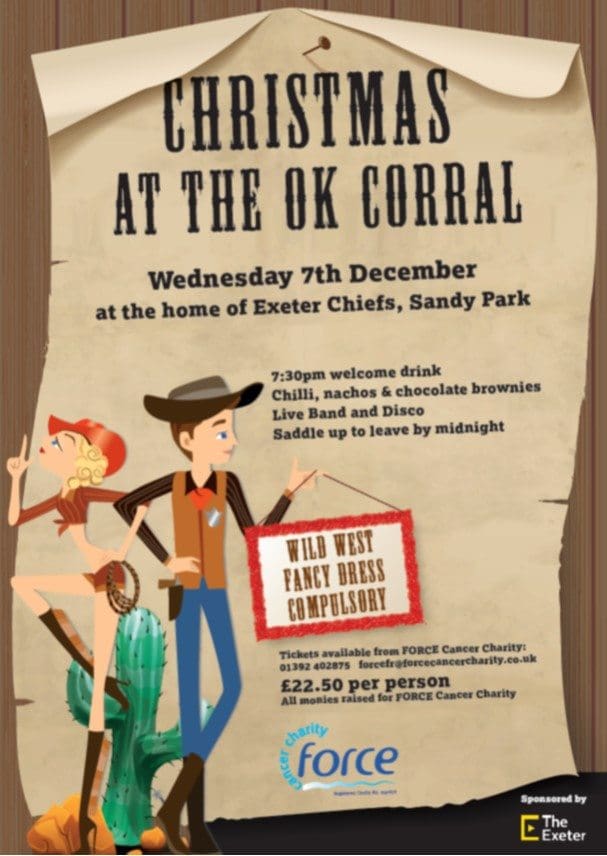 "This is something you simply won't want to miss," said Sarah Daniels, FORCE Head of Income Generation. "We are so excited that we have secured a fabulous VIP package to watch the mighty Exeter Chiefs."
The winning bidder will get two executive box VIP-hosted tickets to join Chiefs Directors for a home match in the Baxter Suite. The package includes a three-course meal, half-time cheese and biscuits and post-match tea together with fine wines.
"It's the ultimate match-day experience. We're so grateful to the directors of the Chiefs and Sandy Park for their generosity," said Sarah.
And the good news is, there's still time to book your table for December 7th.
The theme is the Wild West – jeans, cowboy hats and any other frontier fancy dress is a must. There won't be a turkey in sight – we'll be serving up chilli with nachos. It's £22.50 per person – seated on tables of 10.
We've got two live bands – the Chicken Slacks and the Sensational Travelling Bluesburys – a disco, bucking bronco and pig racing – yes, seeing is believing!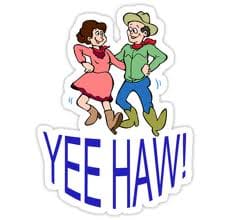 It's a big night of fundraising for FORCE, which offers face-to-face support for anyone locally affected by cancer.
Christmas at the OK Corral is an alternative to the traditional black tie bash.
The evening will also feature other fantastic raffle and auction prizes.
Among them Stuart Line Cruises, Bicton Park and World of Country Life have all donated family tickets. Northcott Beaton have contributed two rounds of Golf for four people on the Oaks Course at Woodbury Park Golf and Country Club plus use of their leisure facilities.
You've got to be there to bid. To book your Christmas capers with work and friends today and raise funds for FORCE, call 01392 403066 or email sarahfr@forcecancercharity.co.uk