Stan set for his final FORCE concert
After 32 years leading one of Exeter's most popular concert bands, Stan Hacking has decided to put down his baton at the end of this year.
His penultimate concert at St Peter's School, Exeter, on Sunday, September 25, at 7.30pm will be in aid of FORCE.
Thanks to our good friends at the Express and Echo for this lovely article.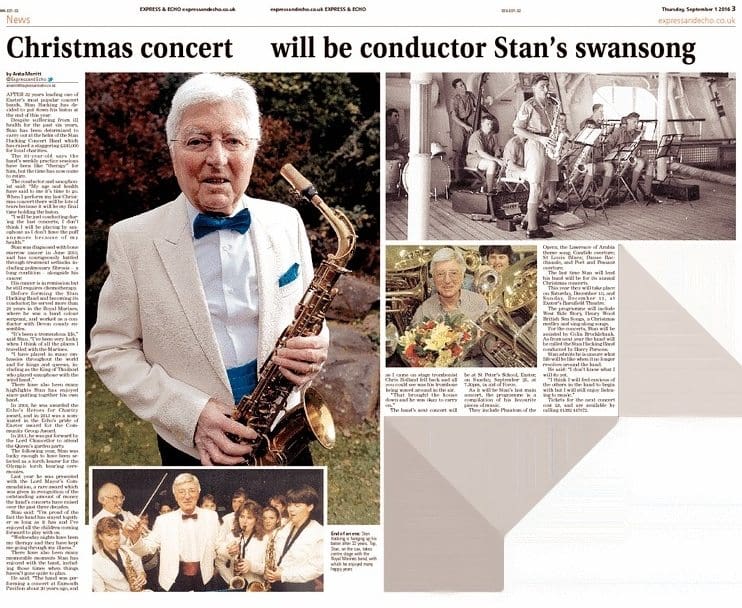 Despite suffering from ill health for the last six years, Stan has been determined to carry out at the helm of the Stan Hacking Concert Band which has raised a staggering £330,000 for local charities.
The 81-year-old says the band's weekly practice sessions have been like "therapy" for him, but the time has now come to retire.
The conductor and saxophonist said: "My age and health have said to me it's time to go. When I perform my last Christmas concert there will be lots of tears because it will be my final time holding the baton.
"I will be just conducting during the last concerts; I don't think I will be playing by saxophone as I don't have the puff anymore because of my health."
Stan was diagnosed with bone marrow cancer in June 2010, and has courageously battled through treatment setbacks including pulmonary fibrosis – a lung condition – alongside his cancer. His cancer is in remission but he still requires chemotherapy.
Before forming the Stan Hacking Band and becoming its conductor, he served more than 20 years in the Royal Marines, where he was a band colour sergeant, and worked as a conductor with Devon county ensembles.
"It's been a tremendous life," reflected Stan. "I've been very lucky when I think of all the places I travelled with the Marines.
Hero for Charity
"I have played in many embassies throughout the world and for King's and Queen's such as the King of Thailand who played saxophone with the wind band."
There have also been many highlights Stan has enjoyed since putting together his own band.In 2004, he was awarded the Echo's Heroes for Charity award, and in 2013 was a nominated in the Echo's pride of Exeter award for the Community Group Award.
In 2011, he was put forward by the Lord Chancellor to attend the Queen's garden party.The following year, Stan was lucky enough to have been selected as a torch bearer for the Olympic torch bearing ceremonies.
Last year he was presented with the Lord Mayor's Commendation, a rare award which was given in recognition of the outstanding amount of money the band's concerts have raised over the past three decades.
Stan said: "I'm proud of the fact the band has stayed together as long as it has and I've enjoyed all the children coming forward to play with us.
"Wednesday nights have been my therapy night and they have kept me going through my illness."
There have also been many memorable moments Stan had enjoyed with the band, including those when things haven't gone quite to plan.
He said: "The band was performing a concert at Exmouth Pavilion about 20 years ago, and as I came on stage trombonist Chris Holland fell back and all you could see was his trombone being waved around in the air."
That brought the house down and he was okay to carry on."
Compilation of favourites
The band's show FORCE on September 25 will be Stan's last main concert, the programme is a compilation of his favourite pieces of music.
They include Phantom of the Opera; the Lawrence of Arabia theme song; Candide overture; St Louis Blues; Danse Bacchanale, and Poet and Peasant overture.
The last time Stan will lead his band will be for its annual Christmas concerts.This year they will take place on Saturday, December 10, and Sunday, December 11, at Exeter's Barnfield Theatre.The programme will include West Side Story, Henry Wood British Sea Songs, a Christmas medley and sing-along songs.
For the concerts, Stan will be assisted by Colin Brocklebank. As from next year the band will be called the Stan Hacking Band conducted by Barry Parsons.
Stan admits he is unsure what life will be like when it no longer revolves around the band.
He said: "I don't know what I will do yet. I think I will feel envious of the others in the band to begin with but I will still enjoy listening to music."
Tickets for the next concert cost £8, and are available by calling 01392 447672, 01392 402875 or from the FORCE Cancer Support and Information Centre in Exeter.
Read Stan's story in the Express and Echo.