Wear your pyjamas to work for FORCE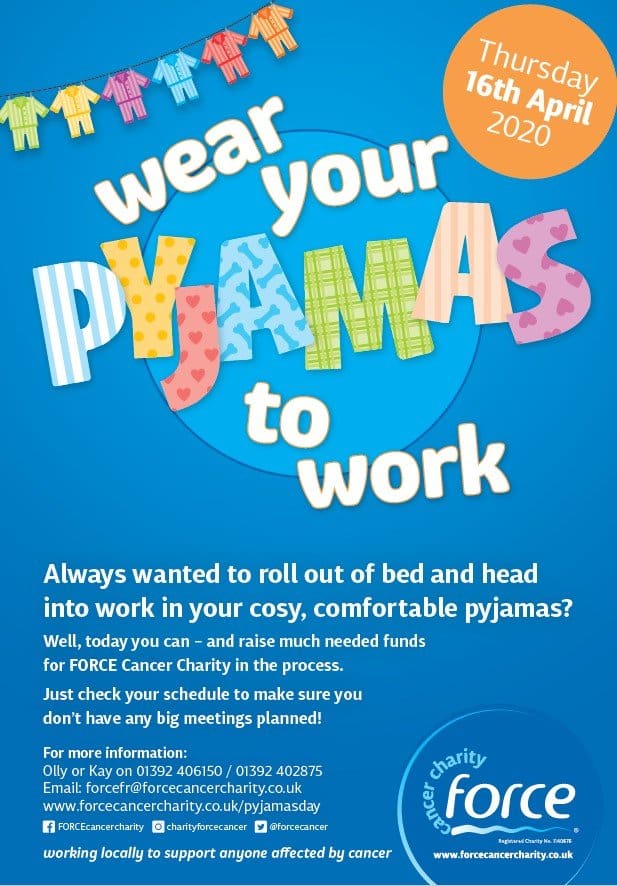 FORCE Cancer Charity has come up with a new and relaxed way to raise money.
We're holding a Wear Your Pyjamas To Work day.
The dress down date is April 16 and FORCE is encouraging people to make a contribution to the charity for the privilege of staying in their PJs all day.
Olly Watts, Fundraising Development Officer at FORCE, said: "What better way to have some fun with work colleagues while supporting FORCE.
"Wearing your pyjamas to work is a simple idea that really can involve everyone. You don't need to train, you don't need to spend loads of money in advance – just pick your favourite PJs and wear them with pride!
Free support
"Every penny raised from this event will go towards supporting local people affected by cancer."
FORCE offers free support to cancer patients and their loved ones at centres in Exeter, Okehampton, Tiverton and Honiton.
The charity needs to raise £1.7million every year to maintain all its services, including paying for the specialist nurses who deliver chemotherapy to cancer patients in Okehampton, Tiverton and Honiton.
Businesses across the area have been quick to offer their support for Wear Your Pyjamas To Work Day.
Whether it's working in a onesie or taking notes in your nightie, FORCE would like to hear from anyone prepared to do their job in their jammies on April 16.
Fun pack
Sign up and they will send you a Wear Your Pyjamas To Work Day fun pack that includes collection boxes, balloons if required and a special certificate.
For more information, call 01392 406150 or 01392 402875 or check out the FORCE website – www.forcecancercharity.co.uk/pyjamasday
"We're suggesting a fixed fee to wear pyjamas on the day and you can even pay that by text," said Olly.
"You can text the word PYJAMAS to 70085 to donate £3. That costs £3 plus your standard message rate. We want it make it as simple as possible for people to support FORCE, spread the word about what we do and most of all, have fun!"
So, don't get caught napping or sleeping on the job – join forces with your local cancer charity to support people in your community.