Team FORCE conquers Three Peaks Challenge
They did it! And with 28 minutes to spare.
Abi Henwood from Teignmouth and a group of her friends completed the notorious Three Peaks Challenge to raise money for FORCE.
They reached the three highest summits in Scotland (Ben Nevis, 1,345m), England (Scafell Pike, 978m) and Wales (Snowdon, 1,085m) within 24 hours.
Members of Team FORCE were motivated to take up the challenge by the support Abi's family received from FORCE after her mum was diagnosed with a brain tumour in February.
They had raised more than £1,000 before setting out and their total currently stands at just over £3,400, a great reward for all their efforts.
Harder than we imagined
Abi tells the story of their epic weekend.
"We are really happy that we completed the challenge. There were times that we didn't think it was possible. Checking our Virgin Money Giving page kept spurring us on.
"I'm super proud of the team and we definitely couldn't have done it without the rest of the group.
"The challenge itself was pretty tough, much harder than I think any of us had imagined. We thought it would just be lots of walking and not so much sleeping.
"We were not prepared for full scale climbing and serious burn that kicked into our entire bodies after mountain one.
"We started Ben Nevis at 16.30 on the Friday after a fairly painless and picturesque drive up to Scotland from Uxbridge that morning.
"A quick pit stop on the way to 'carb up' and we were raring to go.
Really steady start
"We made off to a really steady start and were happy with our progress (even if we did ask every single person we passed how far to go we had) and made it to the VERY cold peak at 19.15.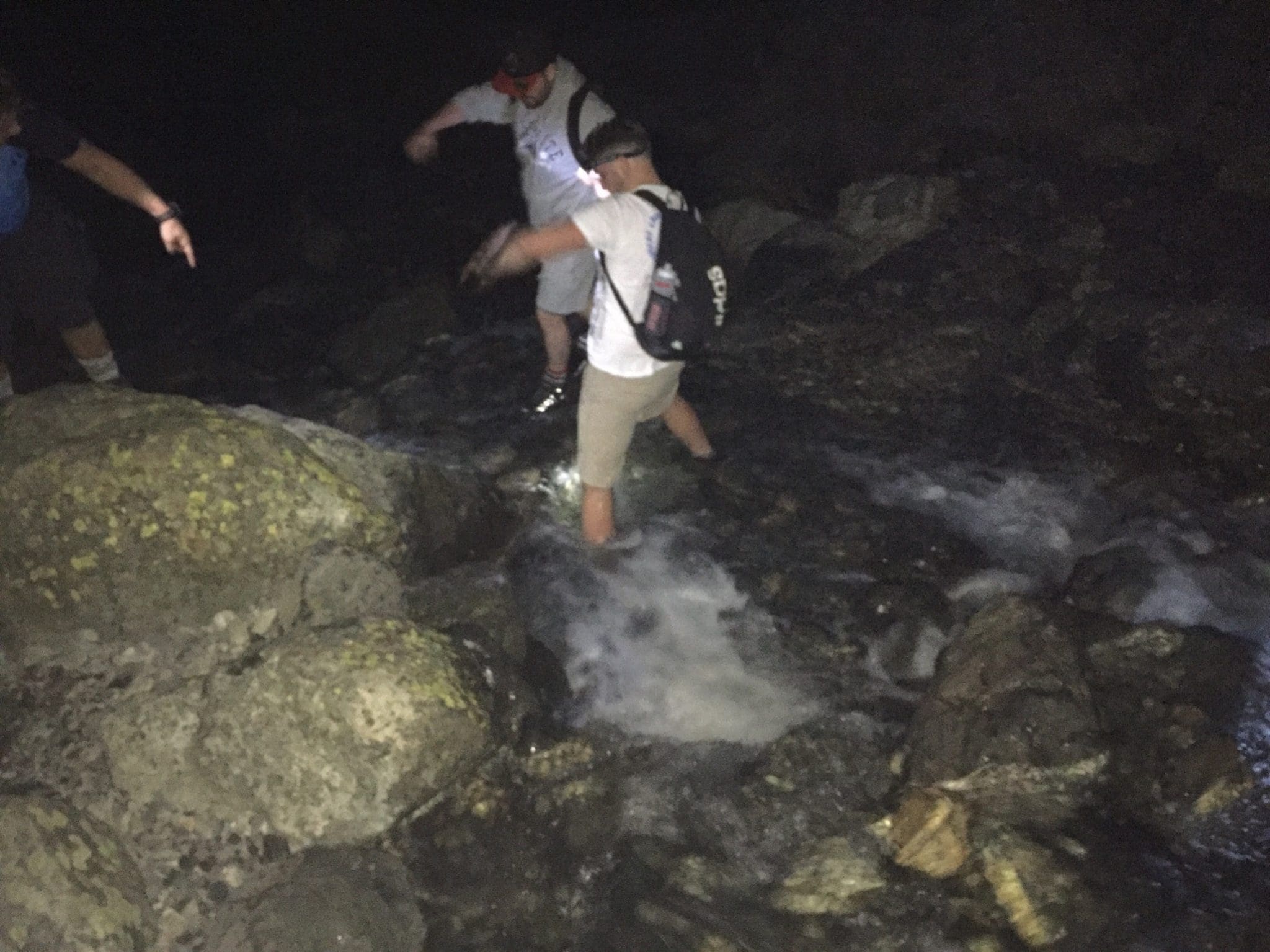 "We were on schedule for our time and surely it was easier going back down.
"Actually the mountain surprised us again with it taking exactly the same length of time to get back down but with shaky legs we were back in the car and on the road by 23.30.
"Just when everyone else was finishing their Friday nights, we were getting ready to start Scafell Pike at 3.20am!
"It was cold and dark and the only other signs of life at that time of the morning were the three other groups trying to complete the challenge.
"I'm not sure if it was the dark or the fact it was cloudy but the peak never seems to come. Every time we thought we were at the top the clouds parted showing us the next peak.
"Still determined, we continued on up until two hours later we were at the top, with another two hours (now in the daylight) back down to the bottom.
"At this point we had some serious sore legs, blisters, a need for a proper meal and a good sleep but spirits were high as there was only one mountain to go and it was only a four hour drive away (we had heard it was the easiest mountain too).
Snowdon isn't easy
"Lesson learnt – not to listen to anyone who says Snowdon is easy!
"Yes it is the shortest and technically should have been the easiest but with already tired legs, the scale up the side of the mountain seemed to go on forever.
"Hands and walking poles were very much used on Snowdon and we had the additional challenge of manoeuvring around the leisurely climbers who had the luxury of time to complete the climb and could enjoy the views.
"It was definitely the busiest of the three mountains. Nevertheless we got to the top in two hours and were on track with two hours left to get to the bottom by 16.30.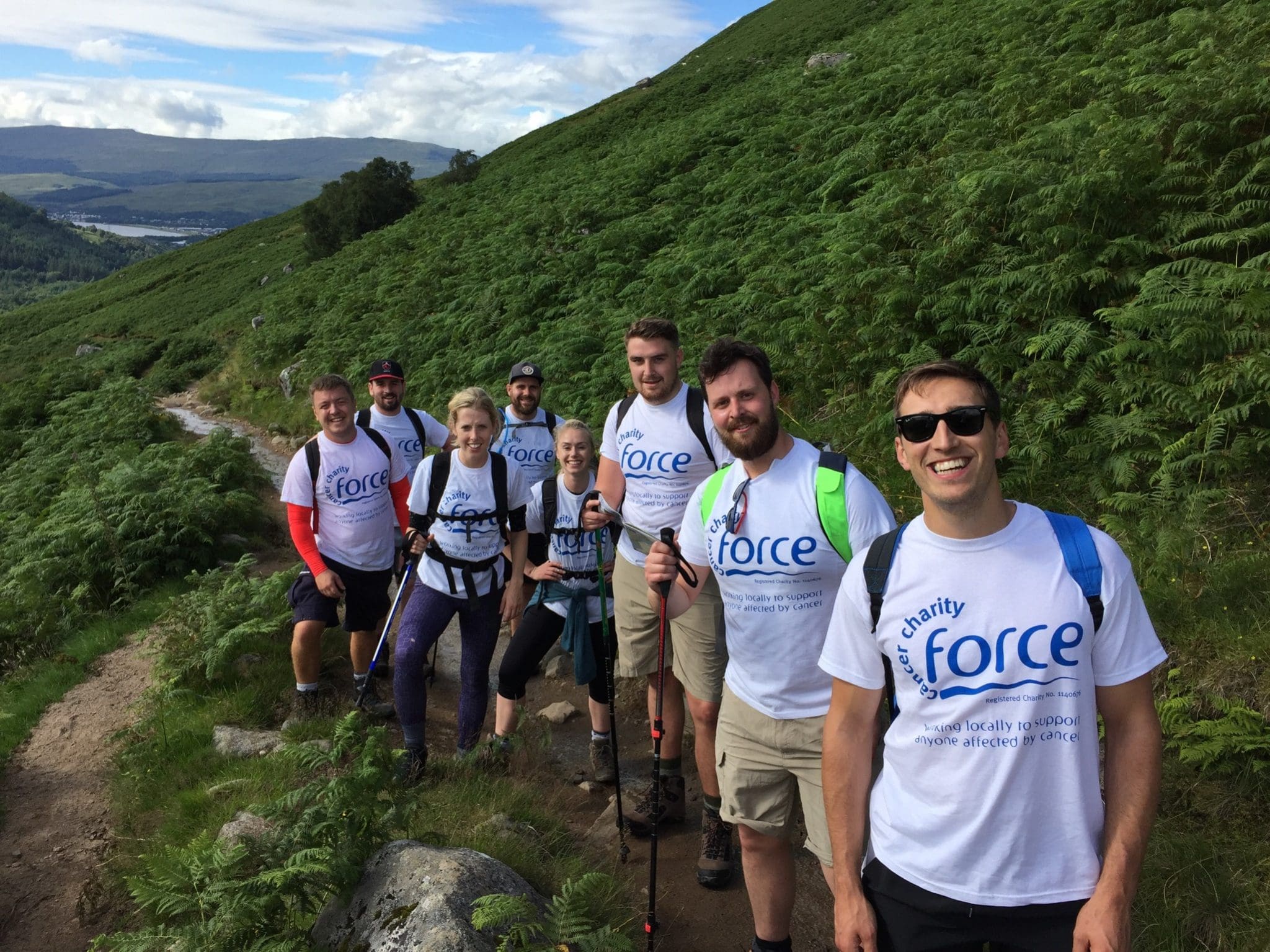 "If anyone climbs Snowdon, a word of warning – if you take the Miners' Track, the two-mile walk at the bottom is the LONGEST two miles you will ever walk. I actually didn't think it was ever going to end…
"The finish line eventually materialised and we crossed it with 28 minutes to spare.
"All in all a very proud moment for myself and the team and I am so pleased with what we achieved but even more so I am over the moon with the kindness and generosity of those who have sponsored us.
"To our friends and family, those who have been touched but cancer or FORCE and even the guy at the top of Snowdon who donated, thank you all so very much."