Tasty return from tax office cake bake
Staff at HMRC in Exeter have raised more than £300 for FORCE with a cake bake at their offices in the city.
The event was organised by Kathryn Burrows and Jane Madden, well-being champions at HMRC, in the memory of a former colleague.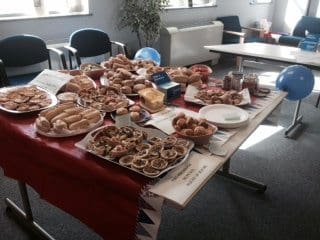 She sadly died from cancer in April and, at the request of her family, all of the money raised from the cake bake came to FORCE.
Staff supported the event by donating delicious home-baked cakes and savouries and FORCE supplied tabards, posters and leaflets promoting the great work of the charity.
Kathryn, Jane and their team had an early start, preparing savoury baguettes, sausage rolls and mini quiches along with copious cake cutting!
"We had amazing support from the whole building and raised a total of £301.07," said Kathryn.