International stars back Exeter rugby festival
The South West is getting set to go rugby crazy with the countdown to the first World Cup fixture in Exeter now well underway.
Tonga face Namibia in Pool C at Sandy Park on September 29 but there will be a sprinkling of international talent on show in the city before that to whet the appetite of rugby fans.
Former New Zealand Maori Brad Hepi and Welsh World Cup player Will James are two of the star names signed up to play in a charity tag rugby day in Exeter later this month.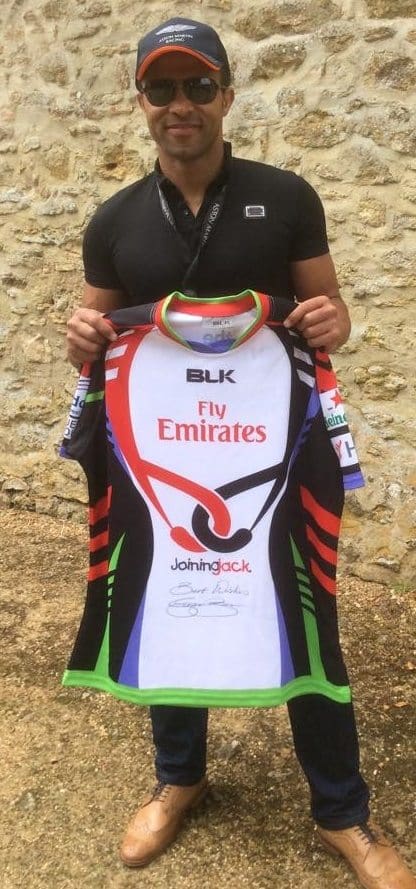 The Devon Rugby Legends Tag Feztival at Exeter Saracens on Saturday, July 25 is raising awareness and money for FORCE Cancer Charity, which has supported many of those taking part.
Two former Exeter rugby players touched by cancer are teaming up to stage the tournament. Retired utility back Darren Harries and current Withycombe winger Andy Matchett have gathered players from across Devon and beyond to take part with Hepi and James topping the bill.
Hepi, who won 13 caps for the New Zealand Maoris and played Super League rugby for Hull, Castleford and Salford City Reds said: "I am really looking forward to playing in the TagFez for what is a worthwhile cause that has touched us all in one way or another. Let's have a fantastic tournament and raise some good money for the Force Cancer Charity."
James, a member of the 2007 Wales World Cup squad, also jumped at the chance to get involved.
"First and foremost it is a fantastic opportunity to support Force Cancer Charity and the great work they are doing and also a great way of playing tag rugby with some of my best mates in the game," said the former Plymouth Albion and Gloucester lock.
"I am sure it will be a brilliant day for everyone involved and something that will make a real difference to the lives of people who are facing a challenge far greater than any rugby match can offer," he added.
Dave Sims (Gloucester, Exeter Chiefs, England), Bob Smith (Northampton, England), Craig Townsend (Exeter Chiefs and England 7's coach), Tony Yapp (Exeter Chiefs), Dan Parkes (Plymouth Albion, Exeter Chiefs, Bath), Wayne Reed (England Counties, Barbarians), Brett Luxton (England Counties, Barbarians) are also in the line-up.
The tournament will feature eight teams of veterans (over 35s) sprinkled with those former Premiership players and full internationals with links to Exeter Chiefs, Exeter Saracens, Wessex, Crediton, Sidmouth, Topsham, Plymouth Albion and the Bali Legends Barbarians.
Each team of eight must also include two ladies aged 16 or over.
FORCE has given Darren Harries and his family significant support during his treatment for kidney cancer. He and Andy Matchett, a skin cancer survivor, have been inspired by the fundraising efforts of former team-mate Martin Lynn.
Martin, who played in the same Exeter Colts team as Chiefs head coach Rob Baxter, is battling a rare form of lymphoma.
He credits FORCE with turning his life around and has raised nearly £30,000 in just over a year for the charity with a campaign based on a fez – the red flat topped conical hat made famous by comedian Tommy Cooper.
"The preparations are going well with the Fez Army in full swing, local businesses have got engaged and are backing us. The support has been fantastic and we are gearing up for a truly excellent day that I am going to be proud to be a part of and best of all we will be generating awareness and cash for FORCE," said Matchett.
The tournament will kick off at 1pm and as well as the rugby there will be live music, food, refreshments, entertainment and a charity auction with a shirt signed by England World Cup winner Jason Robinson (pictured). Entry is free and everyone is welcome to go along and watch.
QUOTES FROM THE CAPTAINS
RUSSELL BESS – SIDMOUTH
"I lost my dad to cancer in November 2007 and all the back-up and support from everyone was fantastic. I got involved just to be able to give something back and support them as a thank you. I played rugby with Andy and Martin and you can't say no to a loon like Lynny! He is infectious in all the right ways."
IAN STEWART – EXETER CHIEFS
"As I'm sure everyone will agree, this dreadful disease touches every one of us at some point in our lives. I lost my mum and both her parents in recent years and my father has also had treatment recently. Above all else it was important to me to be part of the Feztival to support both Darren and Martin, who are very good friends of mine. Plus, it's going to be a great day to catch up with a lot of old friends from a more sociable era of rugby!"
DAVE TURNER – EXETER SARACENS
"I have volunteered to be a captain as my wife and my mum have been treated for cancers in the last couple of years and FORCE provided great help and support in their treatment and recovery and this is a way that I can help with fundraising to help the charity to continue the great work it does."
SHANE BAYLEY – CREDITON
"I am supporting this great event in memory of my dad who passed away six years ago. Having completed the Three Peaks Challenge with Andy, the 55 and 100 mile FORCE Nello rides in recent years, this is another way of raising funds for FORCE."