FORCE charity shop reopens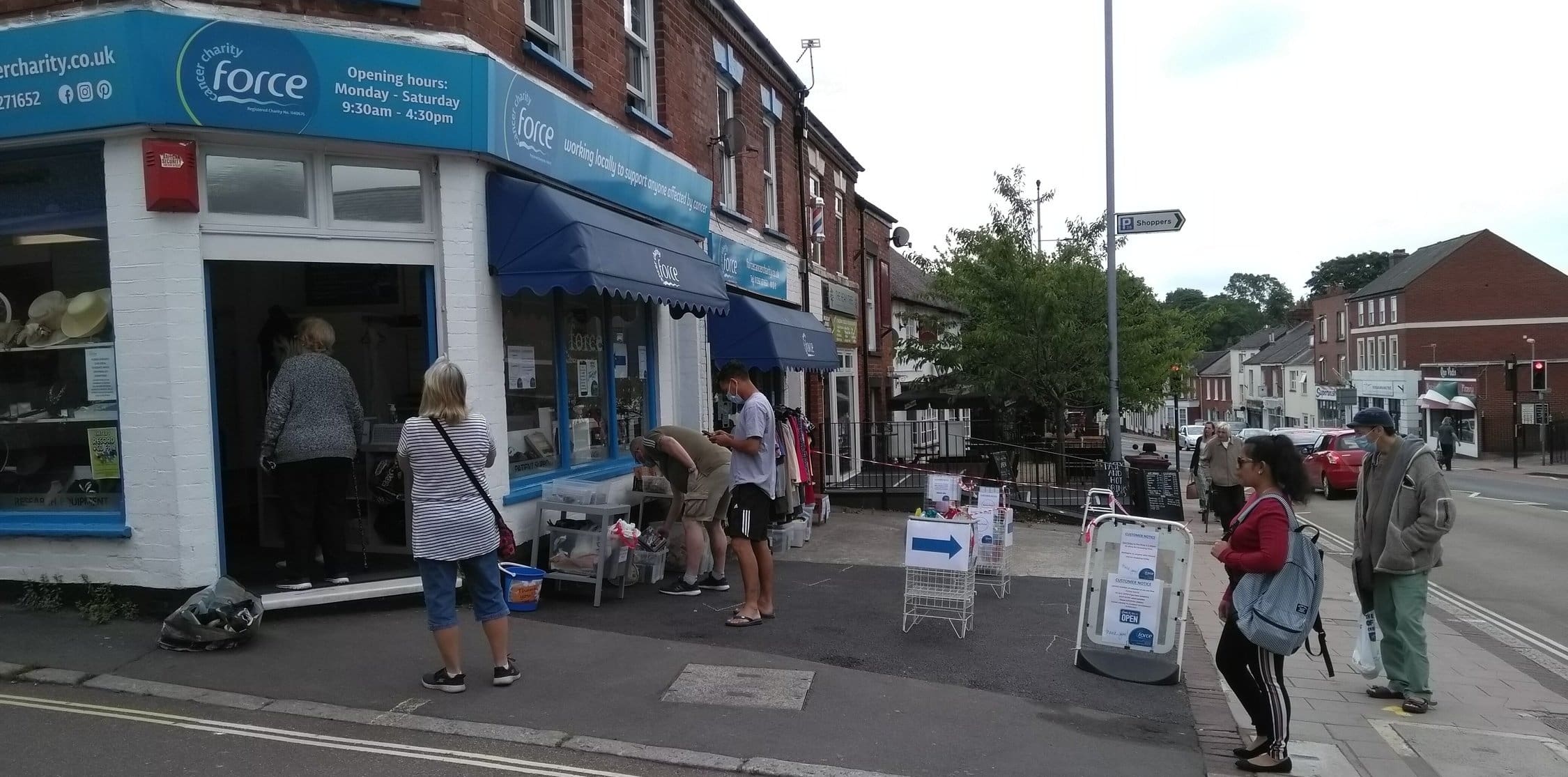 The FORCE Cancer Charity shop in Heavitree has reopened for the first time in nearly three months.
The shop in Fore Street closed on March 23 due to the Coronavirus pandemic but the team has been working hard to get the building safe for staff and visitors.
And it paid off with a steady stream of customers throughout.
"Amazing day!" said Shop Manager Anna Heard.
"Great to see a lot of our regulars and welcome them back. It has highlighted  the need for some more signage in terms of directions etc.. so thank you to everyone today for helping us trial it. It's a learning curve for everyone.
"The donations bay was full within the first 30 minutes so thank you donors for your continued patience.
 Donations
"There is some space for donations tomorrow morning but once again as soon as it's full we will have to close the gate while we process safely and prepare top-ups for the shop floor."
There are new opening hours – Tuesday to Saturday, 11am to 3pm.
Anna and assistants Sue Stone and Maddie Nott will be the only retail team members working and there will be no volunteers to begin with.
"Sue and I have worked very hard re-arranging the entire shop to allow for free flow of customers and a new queue point system," said Anna.
"There are also lots of health and safety and information posters, cleaning products and PPE available."
As part of the re-organisation, linens will now be on sale in the former furniture area, known as Sotheby's.
That part of the building used to be a draper's, likely run by Albert and Minnie Bradridge, according to the national census of 1901.
Contactless
"It is sort of be a step back in time as we start up a new haberdashery area there and I'm really excited that we have created a new, larger space for all the crafty and creative things we have to sell," said Anna.
FORCE would prefer customers to make payments contactless wherever possible.
They are expecting a large number of donations, which can be made only at the shop, and have cleared a large space ready to sort through all the contributions.
But precautionary measures are in place.
"We would ask people to leave donations in bags or boxes untouched for 72 hours before bringing them to us to help protect our vulnerable team members," said Anna.
"We are also asking people to consider selling their items on eBay, Facebook Marketplace or other online platforms and giving us a percentage of the monies rather than trying to come to the shop.
It would be really useful for those thinking of donating," she added.
For the time being, FORCE van drivers will not be making collections or deliveries.