A thank you from The Nello cyclists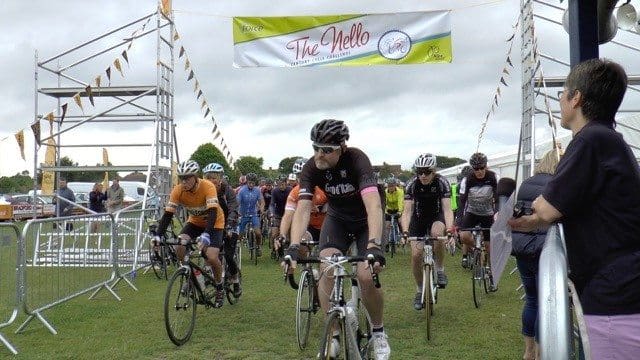 Marc and Kim Millon, founders of The Nello cycle ride for FORCE, have written to Sarah Daniels, event organiser and head of our charity's income generation team, on behalf of all the cyclists after The Nello "Il Ventesimo."
Dear Sarah,
Kim and I are taking it upon ourselves to write a letter on behalf of all the cyclists to thank you, everyone at FORCE, the huge army of volunteers, the Bike Shed team, Exeter Physio, Topsham Rugby Club and all other supporters for providing us with such a wonderful and richly rewarding day on Sunday.
The Nello Il Ventesimo truly lived up to expectations, showing that, even after 20 years, this event still has the power to challenge and to inspire, bringing great satisfaction, joy and pride to all who take part (as well as tears to those riding for sad personal reasons or who had to abandon their personal challenge for whatever reason).
Sarah, you made it very easy for us all to have a great day. What's not to like? We are cycling through beautiful countryside, enjoying fabulous food, even a cup of hot tea at the stops, and there is mechanical and medical support along the way. We even had perfect weather, including a welcome tailwind for the last leg.
No other cycle ride that I have ever done (and I have done many) consistently, year in and year out, provides such support and such a warm and friendly spirit throughout. This is what makes The Nello so special.
But we all know that to make this happen, the effort that you and your team have gone to is immense, an effort that has been going on for the past several months. I can't begin to imagine all the myriad and individual tasks that need to be assigned, that need to be completed; but you have to somehow ensure that they all get done.
At Nello HQ at Topsham Rugby Club there is immense an amount to set up and take down, the marquee, the railings, the sound system, and everything else. The Nello of course is legendary for its ample and delicious food.
To organise food and water for 1500 cyclists requires a gargantuan logistical effort. Everything has to be organised, purchased, cajoled, shifted, delivered, a truly huge volume of food.
Teams of volunteers then come in to Topsham Rugby Club to help on the Saturday, diligently filling countless rolls and buttering slices of this or that for hours and hours. The food is always varied and delicious, both sweet and savoury: an array of cakes and flapjacks, some of them homemade; there is the mountain of pasta (yes 27kg this year, I know because we made it ourselves); hundreds of sausages and pasties; buttered slices of fruit loaves; tens of thousands of jelly babies; and an ocean of water to keep us all hydrated.
We know and appreciate, too, that considerable effort is needed to ensure that we cyclists can enjoy the luxury of a cup of freshly brewed hot tea served with a smile in a car park in the middle of Exmoor. Thank you to Heather and team for organising everything this year (and shedding a tear for Gwen Seale who oversaw this task for so many years).
Simply putting up and taking down the signage on the roads over the course of, what, 120 miles (the 100 route plus the stretch across mid-Devon that unites the 55 with the 100) is an arduous task in itself but a necessary one to ensure that people don't go astray – so a huge thanks to Mike and the fabulous Bike Shed team for this as well as for their expert mechanical assistance on the road.
And a big shout out to the marshals on the road who perform a vital task for our safety.
Then there are the countless volunteers to register us in the morning, to cheer when we finally arrive, to put a medal (and what a medal – we love it!) around our necks, making us all feel like heroes, and to check us in and give us a hug even though we are hot and sweaty. Exeter Physio is there to massage any aches and pains away, there is music, and beer, glorious, cold beer which just tastes so good at the finish.
The Nello has grown and grown over the past 20 years. Yet somehow, in spite of its size, it has managed to maintain the essential 'Nello spirit' of camaraderie and community out of which this event was born.
This is not by chance: it is because you have understood the ethos and importance of what this ride represents to so many of us. To take part in The Nello is an experience that is utterly different to riding a sportive. There are no timing chips or awards based on speed around the course. There are no 'powerbars' (ugh) or sachets of gel handed out; instead there is real food, and there is real support from people who really care.
When Nello and I cycled from Topsham to Venice in 1997, our aim was to help raise funds for the purchase of the Selectron machine pioneered by Dr Chris Rowland of FORCE.
Over the past 20 years, The Nello has raised close to a million pounds. Hopefully that magic target will be exceeded this year, once all the sponsorship money has been delivered.
This is something of which all of us who have taken part over the years should feel rightly and immensely proud. We know full well how important these funds are to enable FORCE to continue to offer its work in providing state-of-the-art equipment, vital support services and pioneering research, all of which bring real benefits, help and relief to so many thousands in our community.
It is worth highlighting some of the vital ways that funds raised by The Nello over the past 20 years have been put to use:
1997 – Selectron Machine purchased for brachytherapy treatment – £60k
2004 – FORCE Cancer Support Centre opens – £1 million – funds from The Nello contributed significantly to the actual construction of the centre
2012 – IMRT – Intensity Modulated Radiotherapy Equipment (facilitating an advanced technique in shaping the radiation dose to the full extent of the tumour so that healthy tissue can be spared) – £70K
2014 – FORCE outreach projects begin, now in Honiton, Tiverton & Okehampton alongside chemotherapy delivered by 2 FORCE funded nurses.  – Initial 3 year project costs, £300K
2017 – Pinpoint treatment for detecting lymph node involvement in gynaecological cancers – £100K
2019 – FORCE funds research into devising an accurate range to measure ovarian and bowel cancer tumour markers in pregnancy – £25K
And so the list goes on with FORCE's annual running costs now standing at £1.7 million.
When the first Nello set off in 2000 with just 90 cyclists, bikes were mainly made from steel, sportive rides hardly existed, the Internet was still new and exciting, sponsorship was done on a piece of paper or by cajoling your mates in the pub to give you a few quid, and the FORCE Cancer Support Centre was still just a dream. It is amazing to see what has been achieved over this period and how far we have all gone in so many ways, simply through the collective power of our legs and minds!
The Nello cycle has brought and will continue to bring great joy to many thousands of us. We ride, each of us, for our own personal reasons, sometimes in memory of those no longer here, sometimes to support friends who are going through treatments and fighting disease, sometimes because we are grateful that we have recovered and survived, or simply because we are strong and able to.
So Sarah, may Kim and I, on behalf of all the cyclists, those who rode this year and those who have ridden in years past, give a huge collective thank you for all that you and the team do.
Most importantly, we would like to thank all at FORCE Cancer Charity for the vital and ground-breaking work that you continue to undertake and towards which the funds we all raise are put to such good use.
It is hugely gratifying for us cyclists to know that merely through our sweaty effort and endeavour, we can assist you to bring such real and tangible benefits to our communities.
See you next year!
Marc and Kim xxx