Kate revs up for charity motorbike challenge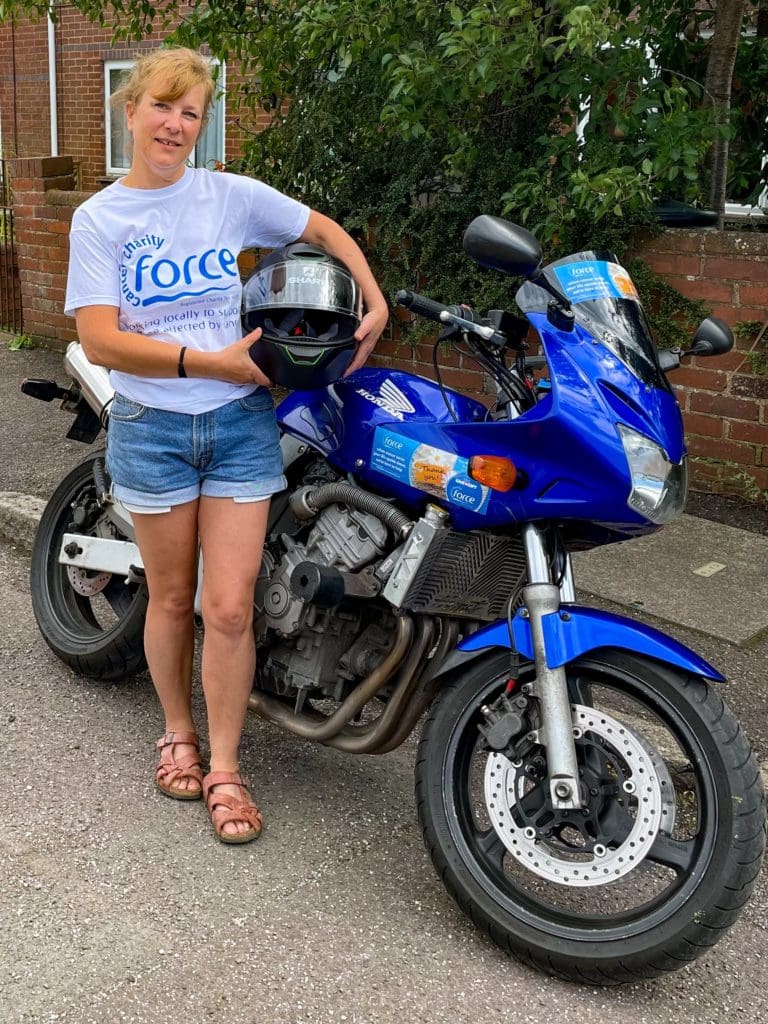 A breast cancer survivor from Exeter will set out this week to ride her motorbike around Great Britain for charity.
Mum-of-two Kate West will ride her 600cc Honda up to 4,000 miles over four weeks in aid of FORCE Cancer Charity.
"FORCE have been part of my life for many years now, helping me and some very close friends and family cope with cancer diagnoses, both of their own and loved ones, both treatable and terminal," said Kate.
"They continue to provide help and support for many people in so many ways – I really don't know what we would do without them," she added.
Kate aims to set off from her home at 11am on Thursday (July 29) with Brighton her first destination.She explained: "The idea is that from Exeter, I will ride around the coast of Britain – England, Scotland and Wales. I'm not taking in Ireland as I don't want to use ferries.
"I'll stick as closely as I can to the coast but I will avoid large urban areas, like Newcastle.
Uncharted
"The nice thing is that at this time of year there are lots of daylight hours so I plan to ride each day in two chunks, early morning and evening, and I'll try to do some filming to keep people up to date on social media."
During her travels she'll stay with friends around the country until she hits uncharted territory for her, beyond Robin Hood's Bay on the Yorkshire coast.
She hasn't booked accommodation in advance and will take a small tent for when camping opportunities arise.
"I might need to book into a B&B now and then for a decent shower!" she admits.
Kate has given herself time to enjoy the experience and spend time with friends during her trip.
She is part of a support group on Facebook and members have been in touch about meeting up en route, buying her lunch and joining her for parts of the ride.
Climb
After John O'Groats she'll head down the West coast of Scotland for a rendezvous with her son Joseph (20) for a special, extra challenge.
Logistics, timing and weather permitting they plan to climb Ben Nevis, the UK's highest peak.
Kate passed her motorbike test in 2012 and will be making her journey on a 21-year-old Honda, known as a Hornet, that has 80,000 miles on the clock.
She has been thinking about a round Britain challenge for a year, alongside full-time training at Exeter College to become a teacher in English for speakers of other languages, a job she describes as incredibly rewarding.
"Ten years ago I had a fantastic trip to Norway and met some amazing people. Five years ago, one of them was diagnosed with breast cancer," explained Kate.
"When I was diagnosed with breast cancer myself in 2019 I thought it would be good to ride from Exeter to Tromso to link up with her again. But COVID put paid to that.
"When I started thinking about this trip, I wanted to support local charities, not the big ones, and I really wanted to support FORCE."
Support
Kate was already aware of the support FORCE could offer cancer patients and their loved ones after her best friend received the devastating news that her illness was terminal in 2013.
"FORCE gave her and her family huge support. So, when I received my diagnosis, I knew there were people I could talk to that would understand what I was going through," she said.
"When I was having treatment, it was so convenient to pop into the FORCE Centre and sit in a peaceful environment.
"It's a place where I could feel comfortable and access so many valuable things like counselling, information and financial advice.
"Even just having someone on the end of a phone when you need it is important.
"But the best thing was meeting other people going through the same thing and forming a support network.
"I really appreciated so many things, like being able to have fresh fruit or a cup of tea and seeing a friendly face when I was feeling a bit wobbly."
Fantastic
Kate found the free, group acupuncture sessions with FORCE therapist Cath Stacey especially good.
"It was fantastic. Those sessions really helped me and I have stayed in touch with the women I met during that time. We've supported each other. If it hadn't been for FORCE I don't know how I would have coped.
"My daughter, Elizabeth, had counselling with Nicky (Loram). She was 14 when I was diagnosed. It was quite a tough time for her as I'm a single mum. She was so worried about me. Nicky really helped her."
Kate has set herself a fundraising target of £500. You can donate at https://www.justgiving.com/fundraising/one-abreast and follow her progress via Instagram – @one_abreast.
She said: "In being able to continue with my life, I want to remember those whose lives were cut short – and I want to make the most of my 'extra-time!'
"Please help me to help FORCE help others like me and my friends and family – you never know when you might need them."