Treat in store at Plaz Metaxu open garden
Don't forget this Sunday's rare opportunity to visit one of Britain's most thought-provoking and unusual gardens at an open day in aid of FORCE.
Plaz Metaxu in the grounds of Coombe House near Witheridge will open between 2pm and 5:30pm.
Visits are usually by appointment only but the garden's owner and designer, Alasdair Forbes, has kindly offered to host this one-off charity event.
Entry will cost £6 with refreshments and local produce available to buy.
Garden designer REBECCA WELLS visited Plaz Metaxu for April's Gardens Issue of DEVON LIFE and describes the delights in store for visitors this weekend.
Most of us, when we move house, have multiple considerations informing our choice; work, possible family connections, the community, transport links or schools.
In 1992, art historian Alasdair Forbes came to Devon with the sole purpose of making a garden.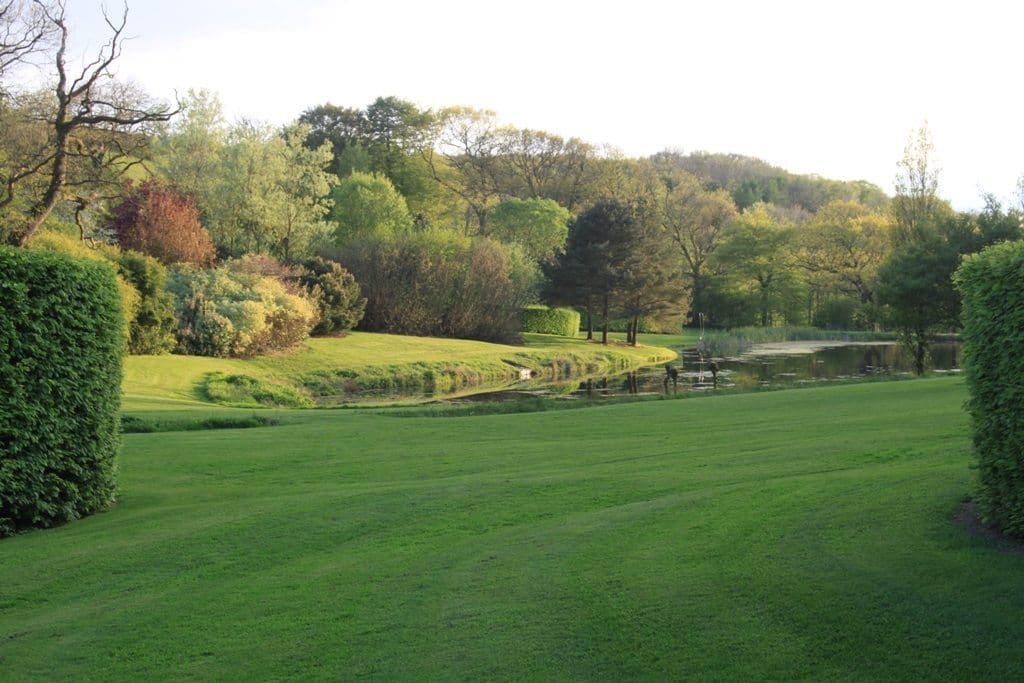 "It was something I wanted to do, had to do," he says. In itself, the move from London to achieve his aim was a considerable undertaking but even more so because Alasdair had no horticultural or garden design training. In the ensuing years he has made a striking and unusual garden which has attracted garden lovers from all over the world.
He found his farmhouse with 30 acres just outside Witheridge. There were three enclosed spaces around the house including a grassed over walled vegetable garden, the front garden bordered by a canal and a courtyard enclosed by some fine 19th century stone barns. The rest of the land comprised a wide open valley with a stream. Coombe House itself had been empty for some time while the land was worked by a tenant farmer. One could say that it had been waiting for Alasdair.
He may not have been a garden owner before, but Alasdair was certainly a garden lover and – from the comparatively early age of 20 – a regular garden visitor. Amongst his favourites are classic gardens such as Rousham, St Paul's Waldenbury and Studeley Royal. All share sheets of water, hedges that manipulate the relationship between enclosure and space and have classic sculpture or buildings punctuating the garden.
He had also read very widely and has been informed by his interest in, and profound knowledge of, Plato's philosophy, Greek mythology and the more recent ideas of archetypal psychology, poetry and Renaissance and Romantic painting. The narrative behind this garden is multi layered, yet the layers are linked to form a rich whole.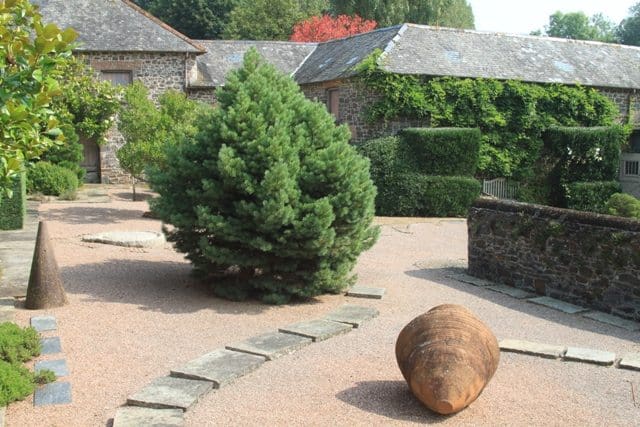 Alasdair believes very strongly that the same concentration and focus should be brought to bear on the making of a garden as to the making of any other work of art. Most garden designers try to be sensitive of the Genus Loci (or spirit of the place) but, for Alasdair, different parts of the garden are dedicated to characters from Greek mythology. This is subtly done and never imposed.
The garden is set in a wider rural landscape with long views; Alasdair welcomes and is inspired by the need to be sensitive to this. It is this collaboration between the topography of the land and Alasdair's cultural background which makes this garden so striking.
The main axis is down the valley where, in 1994, he made the lake. The two sides of the valley form the cross axis and each has a very different feeling. 'Pauses' such as sculpture and stone patterns laid into the ground are placed with very careful consideration so that one discovers them or catches sights of them from the opposite hillside.
My latest visit was on a very brisk February day, with squally rain and brilliant sunshine, but even then the garden had much of interest to entice and intrigue. Alasdair walked with me around the rim of the garden, through plantings of specimen trees. Later I explored the rest of the garden and hedged enclosures; one containing a carpet of snowdrops and hellebores, another two impressive standing stones. The woodland shelterbelt was bright with narcissi and iris reticulata. A group of three red-stemmed willow were reflected in the lake.
At other times of year the canalside in front of the house is rich in Candelabra Primulas, the walled garden is filled with summer perennials and the woodland is radiant with autumn colour.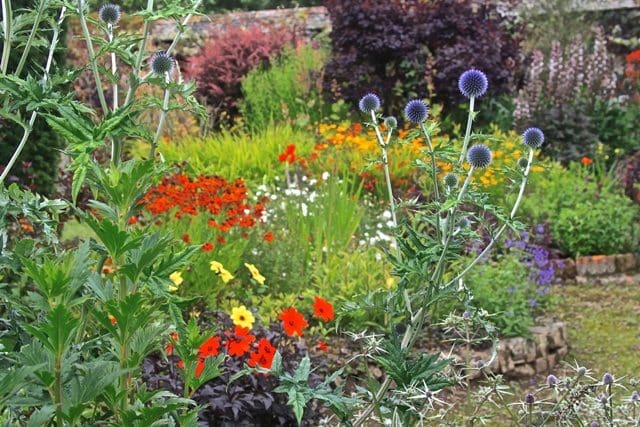 This garden would not, however, have been made without Cyril Harris and Alasdair acknowledges his extraordinary good fortune to have had the help of this "big-hearted and courageous" man. Cyril's local farming background means that he brings many ancient skills to the garden, especially in the use of stone whether it is facing the Ha-Ha or laying complicated patterns in the courtyard.
They have a good-humoured and respectful collaborative relationship. Working together, they have created an interesting, unique and fundamentally satisfying contemporary garden; a garden which excites, asks questions and delights the eye. It is a garden which stays in your mind long after you have left.
Our thanks to DEVON LIFE for their kind permission in allowing us to reproduce this article