New support groups for cancer patients and carers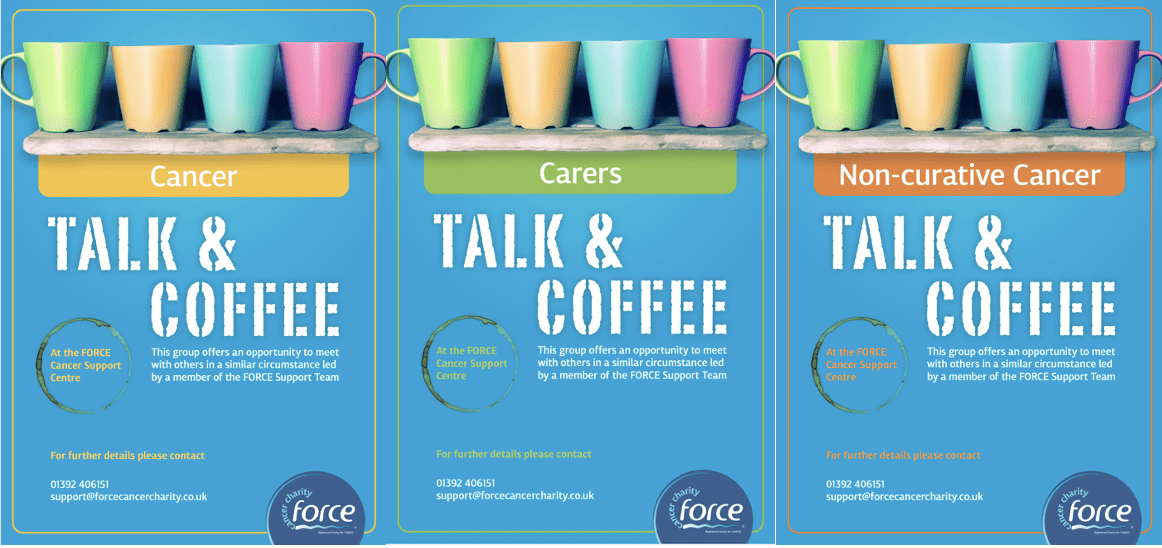 FORCE will be starting three new support groups in the New Year.
The Talk and Coffee sessions are for people with a primary diagnosis of cancer, those living with the disease as a chronic condition and carers.
There will be six 90-minute sessions for each group, held at the FORCE Support and Information Centre in Exeter.
They are designed to offer people the chance to get together and share their experiences.
The groups will be led by support specialists from FORCE, including the charity's lead information nurse Annie Kerr.
Normality
She explained: "What we've found is that sitting alongside people in similar circumstances just puts normality into the situation. People comparing what's normal for them can be really reassuring."
The opportunity for group sessions has been limited by the coronavirus pandemic.
Infection control restrictions on people sitting together in the FORCE reception area have also reduced the amount of contact cancer patients and their loved ones have had with one another.
The new groups, run under strict COVID protocols, will help bring people together again.
FORCE Oncology Support Specialist Emma Ellis said: "What we've noticed during this year with lockdown and the various circumstances we find ourselves living in is that when somebody is diagnosed with cancer, or maybe somebody that's going alongside someone that's had a diagnosis, there aren't the opportunities to informally meet other patients, other people that are experiencing similar circumstances.
Informal
"So, the informal talking and support that you might have when you're waiting for an appointment here in the Centre, at the hospital, waiting for treatment, quite often people say that that's the time when they get together with others and have an understanding that perhaps family or friends can't offer because they're not experiencing it.
"Likewise, even with us as staff supporting people, we understand it to a degree but it's not the same as somebody going through a same experience, so we felt it was really important to be able to offer the opportunity for groups of people to come together.
"We've named them Talk and Coffee groups because that's exactly what we'd like to offer -an opportunity to sit down with a drink and just talk about what you're experiencing, supporting each other, coming up with ideas and an understanding."
Space is limited so please do not hesitate to contact us for more information or to join one of the groups, please call 01392 406151 or email support@forcecancercharity.co.uk
Watch Annie and Emma explaining more.
Dates
Primary Cancer Diagnosis

Talk & Coffee

9:30 – 11am 

Living with Chronic Disease

Talk & Coffee

9:30 – 11am  

Carers

Talk & Coffee

9:30 – 11am 

13 January
18 January
1 February
27 January
15 February
1 March
10 February
15 March
29 March
24 February
12 April
26 April
10 March
10 May
07 June
24 March
14 June
05 July